Ingredients
(For 10 servings) 
300 g chicken thigh meat 
200 g chicken fillet 
250 g cave mushrooms 
100 g ham (cut) 
50 ml madeira 
50 ml of protein 
15 g panko 
10 g chopped herbs (chives, parsley, chervil) 
100 g mayonnaise (own recipe) 
25 g Savora ciabatta 
½ head of iceberg lettuce 
French dressing 
10 sprigs of Salad Pea 
10 sprigs of Hippo Tops 
Olive oil 
Pepper and salt
Method
Pass the thigh meat and half of the fillets through the meat grinder, slice finely.
Clean the mushrooms, cut into wedges and fry over hot fire in a little oil.
Flambé with the Madeira.
Mix the minced chicken, mushrooms, egg white, panko, herbs and salt and pepper to a nice farce (taste and season).
Place the slices of ham on butcher foil with cling film underneath.
Divide the farce on top and the remaining fillet into strips.
Make pills with a diameter of about 6 cm.
Cook it in the steamer 100% steam at 90°C for 30 minutes.
Let cool and cut into 1.5 cm thick slices.
Mix the mayonnaise with savora and season with salt and pepper.
Cut the (bake-off) ciabatta on a slicer into long slices about 2 mm thick.
Brush with olive oil and salt and pepper, place on empty wine bottles and bake in the oven at 100°C until nice and crispy.
Cut chiffonade from the iceberg lettuce and prepare with a little French dressing.
Make a ball of the iceberg lettuce and place 2 slices of ballotine on the plate and garnish the Salad Pea, Hippo Tops, mayonnaise and the toast.
Winesuggestion: Allram Grüner Veltliner from Strass, Austria
Recipe: Erik Wijnhoven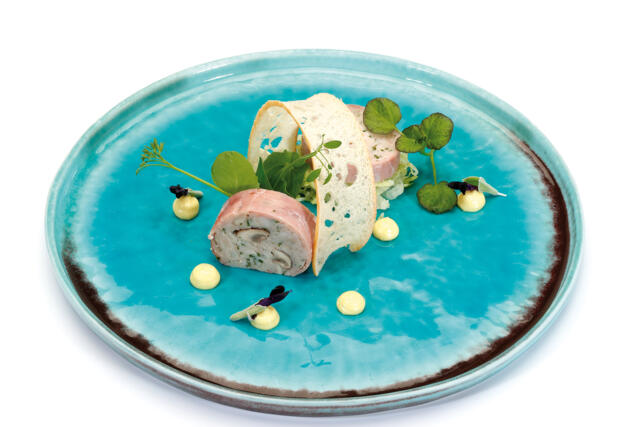 Related recipes
Gastronomical masterpieces
Related products
Say yes to the cress