Ingredients
(For 4 portions of 10cm x 4cm pots)
Blackcurrant juice:
400g frozen blackcurrants
100g water
100g caster sugar
Savoie biscuit:
200g whole egg
155g caster sugar
7g trimoline
 
145g sieved gluten free flour
16g unsalted melted butter
Blackcurrant compote:
335g whole frozen blackcurrants
95g caster sugar
½no. peeled lemon zest
Tiramisu cream:
300g high quality mascarpone  
210g whipping cream 
100g italian meringue (180g caster sugar, 60g water, 90g egg whites) 
40g Marsala wine  
Décor:
85% dark chocolate  
Zallotti Blossom 
Method
Blackcurrant juice:
Place all ingredients into a suitable bowl and clingfilm.
Place over a simmering bain-marie and leave for 3 hours until the fruits are completely broken down and all the juice has been released. 
Remove and strain through a chinois and reserve.
Savoie biscuit:
Heat the eggs, caster sugar, and the trimoline to 40°C and whisk until ribbon stage.
Gently fold in the flour.
Add a little amount of the mix to the butter, and mix in. 
Fold back into main mix gently.
Pour into a pre lined tray to a height of 1,5cm.   
Bake at 210°C until cooked and light golden with no fan. 
Demould and cool.
Cut to desired diameter to fit in the base of the dish.
Blackcurrant compote:
Place the sugar into a large based pan and heat, but do not colour, along with the vanilla.
Slowly add the blackcurrants so as not to completley cool the sugar.
Reduce until the sauce is a thick consistency.
Remove from the heat,cool, remove the vanilla pods.
Tiramisu cream:
Smooth down the mascarpone so there are no pieces.
Semi whip the cream with the Marsala and reserve in the fridge.
Make the meringue cooking the sugar until 118°C, whisk until cool. 
Fold the cream through the mascarpone, then fold in the meringue until smooth.
To build:
Soak the sponge well in the blackcurrant juice.
Place carefully into the base of the dish.
Liberally cover the sponge with 15g of compote.
Top off with approx. 80g of the tiramisu mix so just under the top of the dish then tap level.
Place in the fridge to set for at least 12 hours.
To finish: 
Cover the top of the tiramisu with grated 85% dark chocolate.
Sprinkle over with picked Zallotti Blossom.   
Recept: Simon Jenkins
Website: https://www.snjpatisserie.co.uk/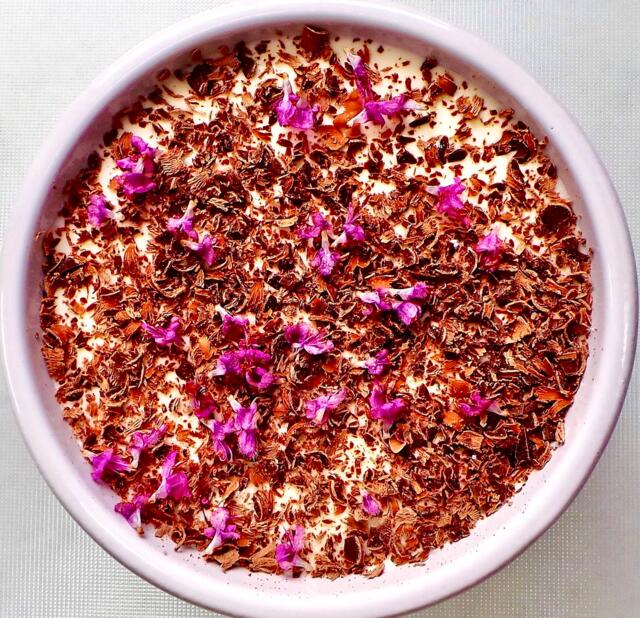 Related recipes
Gastronomical masterpieces
Related products
Say yes to the cress