Ingredients
(For 4 portions)
120gr mange tout              
60g spring onions 
1 Granny Smith apple 
2 bok choy 
10g fresh ginger 
1 punnet Rock Chives 
1 punnet Sakura Cress   
100ml dressing            
Ingredients for dressing (mix all together):
70ml sesame oil           
10ml soy sauce
10ml lemon juice
10ml balsamic vinegar reduction 
Method
Cook steam the bok choy.
Finely slice (fine julienne) the granny smith apple, fresh ginger, mange tout and spring onions.
Place all the ingredients except the bok choy in a bowl and add the freshly cut Sakura Cress and Rock Chives.
Pour the dressing on top and fold gently.
Cut each bok choy into fours longwise and place 2 pieces on each plate.
Place the dressed salad gently on top and serve.
Recipe: Franck Pontais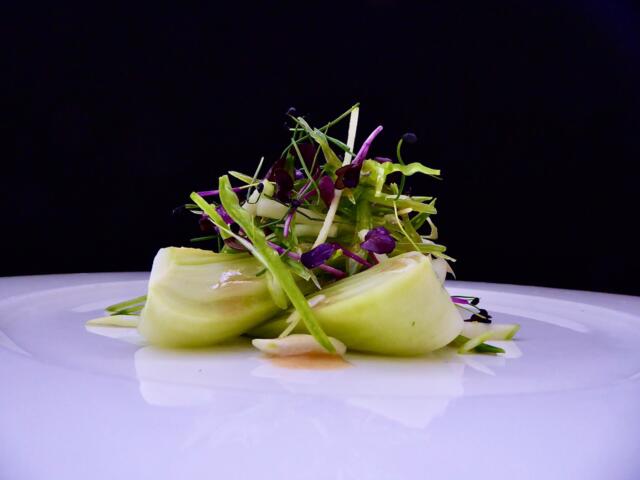 Related recipes
Gastronomical masterpieces
Related products
Say yes to the cress