Ingredients
(For 4 portions)
12 pieces Oyster Leaves
1 punnet Garden Cress
1 punnet Mustard Cress
4 medium chicken breast
4 pieces peeled clementine
400ml chicken stock
8 small, peeled onions
16 carrot balls
20gr unsalted butter
1 tbsp rapeseed oil
Method
Stuff the chicken breast with half of the clementine and sear them in a hot pan with the butter and rapeseed oil. 
Roll each breast to form a cylinder with the help of the cling film and poach in simmering water for 25 to 30 minutes.  
Cook the onions and carrots, simmering slowly in the chicken stock and add the clementine segment from the other 2 fruits 5 minutes before the end of the cooking process. 
Pass through a fine sieve and reduce the stock by half. 
Remove the cling film and cut the chicken into thick slices and serve with the carrot, onions, and clementine stew. 
Pour the reduce stock on top and serve with the Oyster Leaves, Mustard Cress and Garden Cress. 
Recipe: Franck Pontais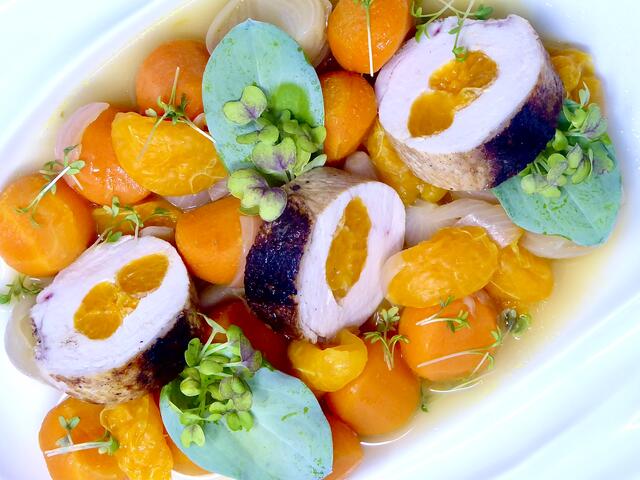 Related recipes
Gastronomical masterpieces
Related products
Say yes to the cress