Ingredients
(For 4 portions) 
1 punnet Rock Chives 
150gr cooked pearl barley 
160gr feta cheese crumbled 
2 to 3 pieces chicory 
160gr red cabbage puree 
A drizzle olive oil 
4 large red quinoa crackers 
Method
Cut half of the punnet of Rock Chives and mix it with the cooked pearl barley and the olive oil. 
Place the red cabbage puree at the centre of the plate and press it down using the bottom of another plate or a round plastic template to obtain the marble effect. 
Break all the large crackers into 4 pieces. 
Peal the leaves of the chicory off gently and dress the plate as shown on the picture. 
Finish with the rest of the freshly cut Rock Chives. 
Method for the red cabbage puree:
Cut and roast (cover with a tin foil) ½ of a red cabbage with a drizzle of olive oil. 
Blend it with 200ml of vegetable stock using a high-speed blender. 
Sieve that, season it to taste and serve or reserve until use. 
Method for the red quinoa crackers:
Mix 3 tbsp of dry red quinoa with 50gr of flour and 2 egg whites. 
Brush a non-stick baking paper with some vegetable oil, divide the mix into 4 portions and spread into the paper. Bake in an oven at 225°C for 3 to 5 minutes. 
Gently remove them from the paper and break each large "tuille" into 4 crackers. 
Recipe: Franck Pontais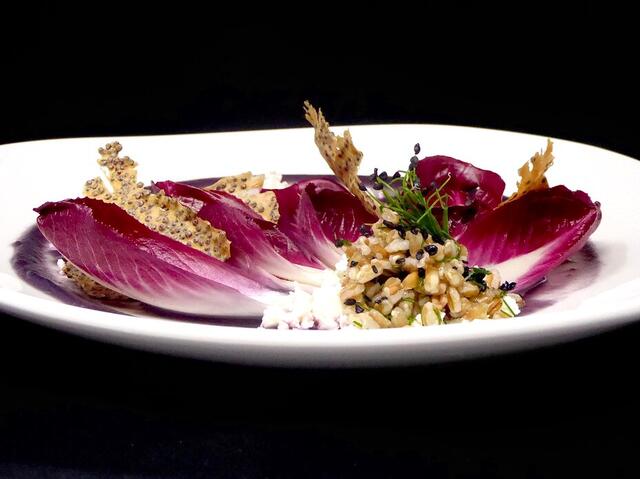 Related recipes
Gastronomical masterpieces
Related products
Say yes to the cress