Ingredients
Sweet cocoa tart:
250g butter
4g salt
180g sugar
60g ground almonds
100g egg
120g flour 1
20g cocoa powder
350g flour 2
Brownie:
125g butter
70g chocolate 66%
2 eggs
100g sugar
60g flour
10g walnuts
Dark Chocolate Ganache 66% / Green Chartreuse:
250g whipped cream 1
35g Chartreuse Green
12g trimoline
40g icing sugar
4g gelatin
100g dark chocolate 66%
440g whipped cream 2
Namelac chocolate cream 70%:
200g milk
400g whipped cream
250g dark chocolate 70%
5g gelatin
Green Chartreuse Gel:
150g Green Chartreuse
10g lime juice
90g water
15g sugar
2g agar agar
Green Chartreuse Syrup:
100g water
70g sugar
30g Green Chartreuse
1/2 lime zest
Method
Sweet cocoa tart:
Mix all ingredients in a bowl (except flour 2) until homogeneous.
Then add flour 2 and mix again until well combined.
Leave overnight in the refrigerator.
Brownie:
Melt the butter and chocolate in a water bath.
Then add eggs, sugar and flour and mix well.
Finally, add the coarsely chopped walnuts.
Dark Chocolate Ganache 66% / Green Chartreuse:
Soak the gelatin.
Stir in the cream 1 mix with Chartreuse, icing sugar and trimolin and bring to the boil.
Add gelatin and mix.
Carefully pour in the chocolate in portions to form an emulsion and mix.
Add cream 2 and mix again.
Leave to set in the refrigerator.
Namelac chocolate cream 70%:
Bring the milk to the boil, add the dissolved gelatin.
Emulsify with a spatula and gradually pour in the partially melted chocolate.
Stir as quickly as possible to obtain a perfect emulsion.
Add cold cream and mix again.
Let cool in the fridge.
Green Chartreuse Gel:
Heat all liquid ingredients to about 40°C.
Add the sugar with the previously mixed agar-agar.
Boil and refrigerate until crystallization.
Mix well.
Green Chartreuse Syrup:
Add sugar and lime zest to the water, bring to the boil.
Put in the refrigerator, add Green Chartreuse when it has cooled.
Cake assembly:
Press the dough together and bake for 12 minutes at 165°C.
Use a pastry bag to fill the cake for 3/4, add the brownie batter and bake for another 8/10 minutes (bake the rest of the dough to make small cubes that will be used for decoration).
Lightly soak the brownie in Chartreuse syrup.
Then beat the ganache until soft and use a piping bag with round tip to pipe the cream on the cake.
Then squeeze the namelaka cream with the notched tip to fill the last areas of friction.
Make small indentations in some of the ganache roses to place the Chartreuse gel decorations.
Cut the extra baked brownie into even cubes, sprinkle with icing sugar and arrange on the grid.
Decorate the cake by adding some Atsina Cress leaves.
Recipe: Baptiste Depoorter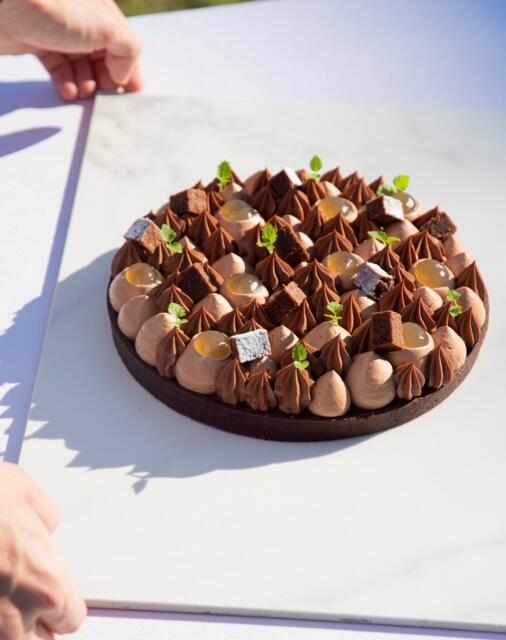 Related recipes
Gastronomical masterpieces
Related products
Say yes to the cress