Ingredients
6 egg whites
100g Atsina Cress sugar
100g Scarlet Cress sugar
1L plain syrup
1 punnet Scarlet Cress
1 punnet Atsina Cress
Method
Make use of two mixing bowls, place 3 egg whites at the bottom of each one.
Whisk the egg whites in one of the bowls until firm, add the Atsina Cress sugar all at once and fold together. Proceed the same way with the other bowl using the Scarlet Cress sugar.
Grease a semi-sphere silicon mould with oil and pipe the egg white mix into it.
Bring the syrup to a simmer in a pan, place the mould on top of the liquid and cook slowly for 5 to 7 minutes.
Remove from the mould and serve with dust of Atsina Cress and Scarlet Cress sugar and some fresh cress.
Atsina Cress and Scarlet Cress sugar:
Put two punnets of Scarlet Cress in a highspeed blender. Mix well until the sugar becomes all pink and forms a kind of a paste. Spread the Atsina sugary paste on a tray and place into the dehydrator machine for at least 5 hours.
Once dry and hard, break down the lump of sugar and mix once again with the highspeed blender. Stop mixen as soon as you reach the consistency of caster sugar.
Proceed the same way to make the Atsina Cress sugar.
Recipe: Franck Pontais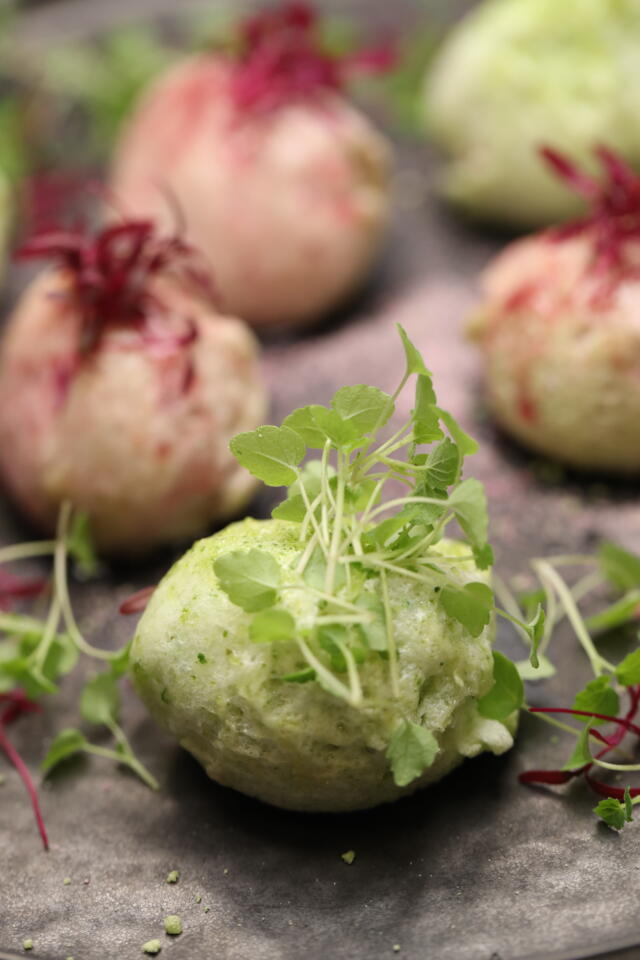 Related recipes
Gastronomical masterpieces
Related products
Say yes to the cress