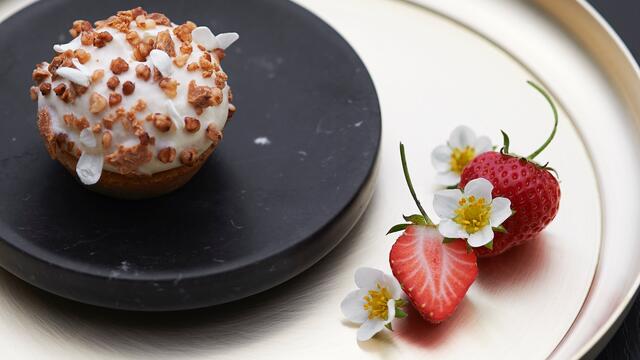 Gariguette strawberry, jasmine, puffed buckwheat and almond
Chef Sébastien from restaurant Ogst: "Small flavour bombs have to add surprising elements to my apparently austere desserts, in which the complexity is not always visible."
Ingredients
Gariguette strawberries
Jasmine Blossom
white chocolate caramel
strawberry blossom
For the jasmine emulsion:
2 dl milk
30 g Jasmine Blossom
4 dl cream
5 cl vodka
2 egg yolks
2 leaves of gelatin
For the almond biscuit:
115 g flour
175 g of tender butter
90 g powdered sugar
40 g egg yolk
120 g of almond powder
For the puffed buckwheat:
sunflower oil
buckwheat
powdered sugar
Jasmine Blossom
Method
For the buckwheat, dry the Jasmine Blossom, grind to a powder and mix with powdered sugar. Roast the buckwheat in hot oil, let it cool and sprinkle with the jasmine sugar.
For the emulsion, infuse the milk and the Jasmine Blossom overnight. Warm all ingredients and lightly bind with the yolk. Dissolve the soaked gelatin in it, strain the mass and allow to cool.
Fill a siphon and aerate with two cartridges. Mix all the ingredients for the almond biscuit, bake in tins for 12 minutes in the oven at 150°C.
Dress all components on the plate and garnish with the Jasmine Blossom, strawberry blossom and caramel.
***
Restaurant Ogst 
Ridder Portmansstraat 4 – Hasselt
T  0032 11 41 38 13
www.ogst.be
Recipe: Sébastien Wygaerts
Source: Pâtisserie & Desserts - 50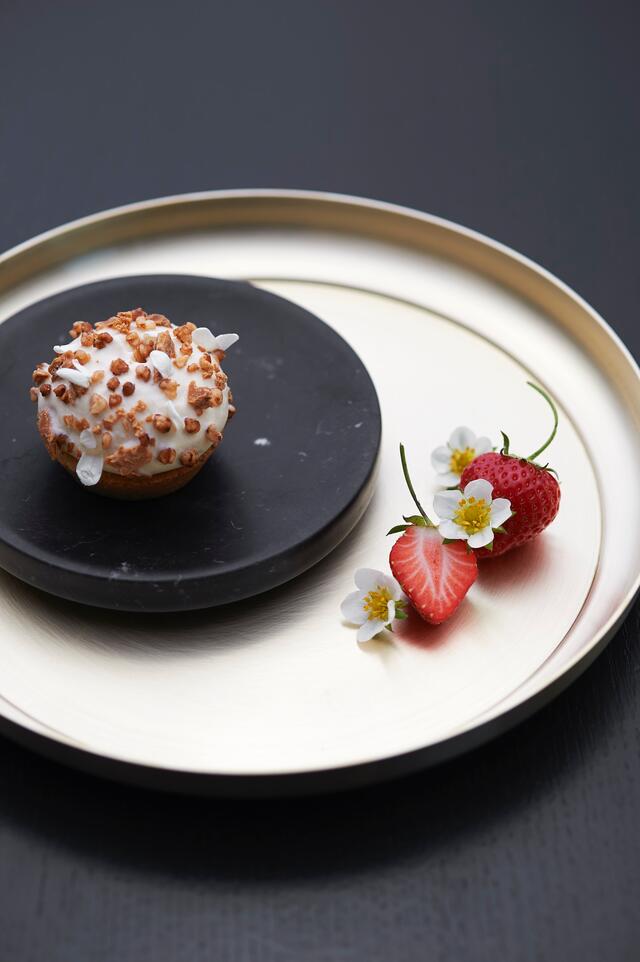 Related recipes
Gastronomical masterpieces
Related products
Say yes to the cress