Ingredients
Voor 2 porties
Tomato gazpacho:
4 tomatoes
1/4 watermelon
1 pack of Motti Cress
coarse sea salt
a few drops of tabasco
25 ml olive oil
1 lemon juice
¼ red onion
Cucumber gazpacho:
1/4 Galia melon
1 green onion
coarse sea salt
1 lemon juice
25 ml olive oil
1 peeled cucumber
Avocado Cream:
1 avocado
juice of 1/2 lime
100g feta cheese
Kaffir Lime Leaves Oil:
200 ml grape seed oil
8 Kaffir Lime Lives
Garnish:
1/2 Galia melon
1/4 watermelon
1 white radish
1 purple radish
1 red radish
yellow mini tomato
1/4 green tomato
1 pack of Motti Cress
1 pack of Zorri Cress
Method
Using a melon spoon, cut balls out of the watermelon, add the rest of the ingredients to the thermomix and mix together with the tomato, Mottie Cress, sea salt, olive oil, lemon juice, red onion and Tabasco.
Then strain. Keep in the fridge.
Cut Galia melon balls, mix the rest of the ingredients with green onion, coarse sea salt, lemon juice, olive oil and peeled cucumber and mix well in a thermomix.
Cut the radish into thin slices and store in ice water.
Blend avocado pulp with lime juice in a thermomix to a smooth paste, squeeze it into the middle of a plate.
Add melon balls, radish slices, tomato quarters and garnish with watercress.
Pour two gazpachos into it and drizzle with Kaffir Lime Leaves oil.
Serve with ice cold URB Amsterdam in a glass with melon balls.
Recipe: Eric Miete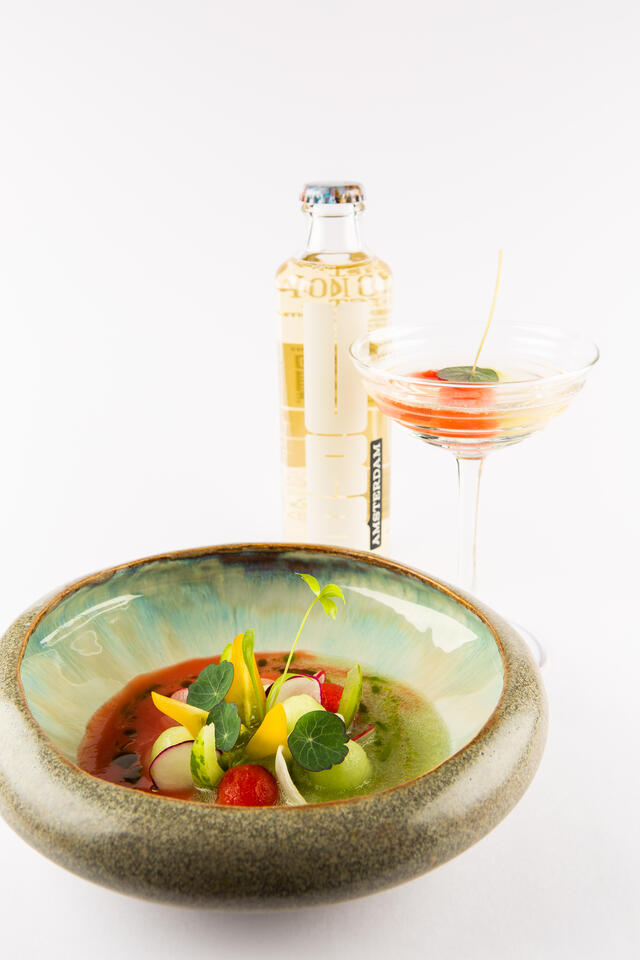 Related recipes
Gastronomical masterpieces
Related products
Say yes to the cress