Ingredients
(For 4 portions)
1 punnet Tahoon Cress
1 punnet Kikuna Leaves
250gr cooked green asparagus
400ml milk
100gr grated parmesan cheese
60gr butter + soft for mould
60gr flour
3 large eggs
1 egg white
2 pinches ground nutmeg
1 pinch fine sea salt
Method
Cut the asparagus longwise to fit into the moulds and dice the trimmings.
Brush the inside of 4 moulds with the soft butter, arrange the asparagus inside and set aside.
Break the eggs and divide the whites from the yolks into two bowls, adding the extra egg white to the bowl of whites also.
Make a roux with the 60gr of flour and butter and add the cold milk on top, keep whisking on a medium to high heat until the mix thickens.
Add the parmesan cheese and seasoning.
Cool down the mix and pour into the egg yolk, fold together, adding half the diced asparagus trimmings and ½ punnet of freshly cut Tahoon Cress.
Whisk the egg white until firm and fold gently into the mix.
Fill up the mould and bake in an oven at 220°C for 10 to 15 minutes.
Serve with the other half of the diced asparagus, the freshly cut Tahoon Cress and the Kikuna Leaves.
Recipe: Franck Pontais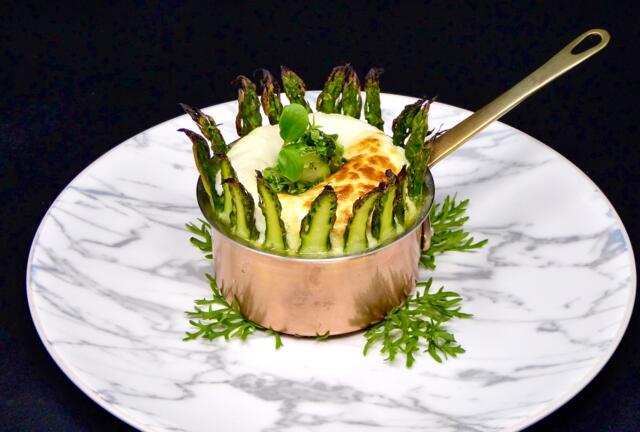 Related recipes
Gastronomical masterpieces
Related products
Say yes to the cress