Ingredients
(For 4 portions)
2 stew apples
4 ripe beef tomatoes
Little mace powder - Verstegen
cup of Floregano - Koppert Cress
strong dash of Iluigi olive oil
coarse sea salt - Verstegen
truffle dust - Tartivo truffles
4 slices of wholemeal bread
Method
Marmalade:
Peel the apples and remove the core.
Cut into pieces.
Wash tomatoes and remove the crown.
Make a cross cut at the top of the tomatoes.
Bring enough water to the boil and immerse the tomatoes in it for 20 sec. Then take them out and then immediately cool in cold water and then peel.
Now cut the tomatoes in four and remove the seeds. Put these in a mixer.
The pulp can be roughly cut.
You can mix the seeds into a gravy and then add them to the tomatoes through a sieve. 
Let the apples and tomatoes stew on a low heat under the lid to become marmalade. This can take up to 30 minutes.
Toast:
Cut toasts with a bread knife 1.5 to 2 cm thick.
Grill these on the (Berghoff) BBQ until they are nicely colored on both sides.
Then spoon the marmalade onto the toast.
This can be served hot or cold.
To finish off:
Place 2 toasts per plate and finish with some truffle dust and the Floregano flowers.
Recipe: Frank Fol - The Vegetables Chef®
Photo: Wim Demessemaekers, Photographer | @wim_dmskrs
Preparation time: 25 minutes 
Techniques: veggies
Plate: Wild Grey Plate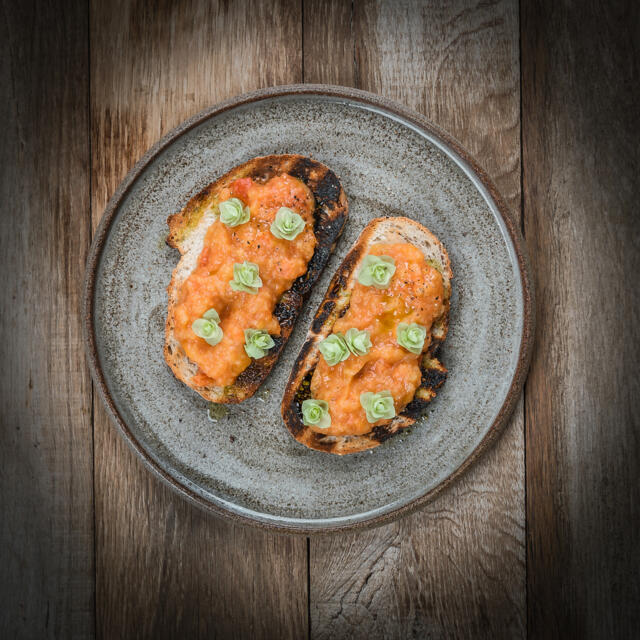 Related recipes
Gastronomical masterpieces
Related products
Say yes to the cress