Ingredients
(For 4 servings)
Fish:
1 whole (sea!) Mullet, clean (about 1000 g) (or other fish according to the season)
white Muntok pepper
fleur de sel
Lemon Butter:
100 g butter
1/4 bunch of parsley
juice of 1 lemon
fine table salt
Hazelnut Cream:
2 x 50 g roasted hazelnuts (preferably "tonda delle Langue")
100 g mascarpone
pepper and salt
Fennel:
2 pieces of fennel (depending on the size, count on 100 g per person)
1 granny smith or another sour apple
Shiso Purple
white Muntok pepper and fine table salt
Duxelles:
150 g chestnut mushrooms (finely chopped)
2 soaked morels (fine brunoise)
mushroom stock or calvados
2 shallots (chopped)
1 clove of garlic
1/4 bunch flat-leaf parsley (chopped)
50 g ham on the bone (fine brunoise)
pepper
salt
Potato millefeuille:
3 or 4 large, evenly shaped Opperdoezer round potatoes
Tahoon Cress for garnish (mushroom, truffle, heavy nutty)
Cornabria Blossom
Shiso Purple
Method
Lemon Butter:
Mix all ingredients with a hand mixer.
Potato "millefeuille":
Evenly cut slices on the mandolin or (optional) mathematical rectangles of the potatoes (approx. 15-18 slices per person) of about 0.5 mm thickness for 2 to 3 minutes in grape seed oil at 180°C. Store the crispy slices at paper in a hermetically sealed container.
Hazelnut Cream:
Pulse half of the hazelnuts fine, the other half coarse, and mix with the mascarpone. Season with some fine table salt.
Duxelles:
Soak the morels in mushroom stock or calvados beforehand and rinse well after soaking. Fry the chopped shallot in butter over medium heat. Add the chopped mushrooms and the finely chopped morels. Fry this on a medium heat until done and until the moisture has evaporated (the mass should become firm). Finally, add the fine brunoise of ham on the bone, the crushed garlic clove and at the very end the chopped parsley. Season this with white pepper and fine table salt. Store in a piping bag. It may be lukewarm when used.
Fennel:
Cut the fennel into half moons about 0.5 cm thick. Sauté the vegetables over high heat with a little (half a tbsp) olive oil until al dente. Glaze the vegetables with a teaspoon of butter. If necessary, cut some apple julienne and mix to taste with the warm fennel just before serving and let it heat for 15 seconds.
Fish:
Remove the head, tail and fins from the fresh mullet and cut the fillets. When the fish is cooked on the BBQ, sprinkle with some fleur de sel and a little white pepper to taste. Serve the fish immediately after the BBQ and top it with a lemon butter quenelle.
Decoration:
It is important that work is done quickly as the potato chips are sensitive to attracting moisture.
Start with the potato millefeuille. At about 10 a.m. from the plate, draw a thin line of hazelnut cream as a foundation (preferably mashed potatoes if available) for 5 to 6 overlapping chips. Then draw a wide line of duxelles. Cover this with another 5 to 6 chips and spray the hazelnut cream on top in an equally wide strip as the duxelles and finally cover it with 5 to 6 chips. Decorate this millefeuille with a few leaves of Tahoon Cress inserted between the potato slices.
Place the fish from the BBQ at the bottom of the plate. Garnish with some preserved fennel greens and a quenelle lemon butter.
Dress the vegetables at 2 o'clock of the plate. Insert Shiso Purple leaves in various places and serve immediately.
Recipe: Rico van Onna and Pieter J. Bogaers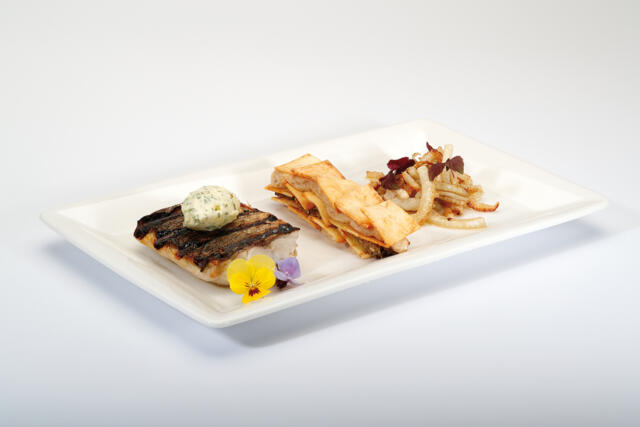 Related recipes
Gastronomical masterpieces
Related products
Say yes to the cress