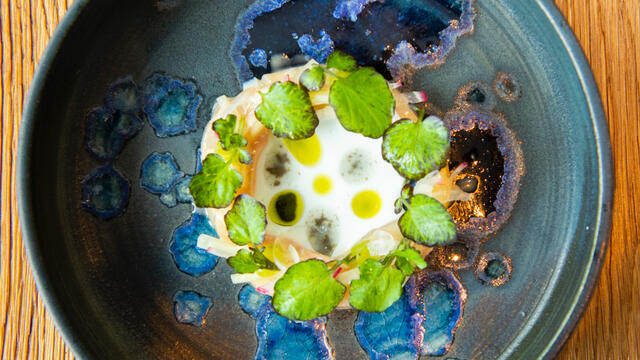 Trout encrusted in liquid brine with onion, radish and Hippo Tops
Heiko Lacher's style in the kitchen? Pure and direct and based on fresh acids with light umami touches.
Ingredients
Hippo Tops
trout fillets from the Eyach valley
julienne of radish
pickled onion rings
pickled celery
For the Hippo Tops gel:
1 cup of Hippo Tops
2 g of agar
1 dl water
5 cl parsley chlorophyll
5 cl apple juice
For the salted buttermilk:​
2 dl buttermilk
2 g of sea salt
1 clove of garlic
gelespessa
1 sprig of thyme
For onion peel oil:​
30 g of butter
1 dl sunflower oil
5 cl hazelnut oil
onion peelings
For Hippo Tops oil:​
2 dl sunflower oil
1 dl grape seed oil
4 boxes of Hippo Tops
5 cl parsley chlorophyll
Method
Place the trout fillets in liquid brine for 10 minutes, rinse and cut thinly. Dress the slices on the plate.
For the gel, bring water, apple juice and agar to a boil, add to the chlorophyll, set and blender until smooth.
Mix all the ingredients for the buttermilk without the gelespessa. Infuse for 3 hours at 40˚C.
Bind lightly with the gelespessa, pass through a sieve and reserve cool. Make a hazelnut butter, pass through a filter and burn the onion skins black.
Mix all ingredients, infuse at 40˚C, pass through a sieve and reserve cool.
Blanch the Hippo Tops, grind with the oil, pass through a sieve and then add the chlorophyll.
Dress all components on the trout slices, spoon the buttermilk in the middle and garnish with Hippo Tops.
***
Restaurant Anima
In Wöhrden 5, Tuttlingen, Duitsland
Tel. 0049 7461 7803020
www.restaurant-anima.de
Recipe: Heiko Lacher
Source: Culinaire Saissonier 90 - Fall 2018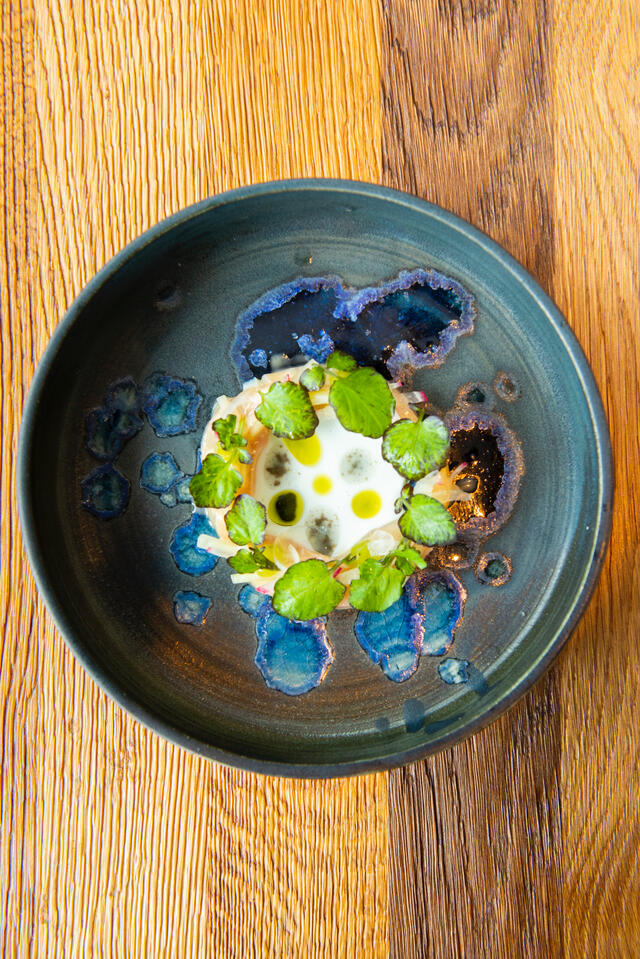 Related recipes
Gastronomical masterpieces
Related products
Say yes to the cress