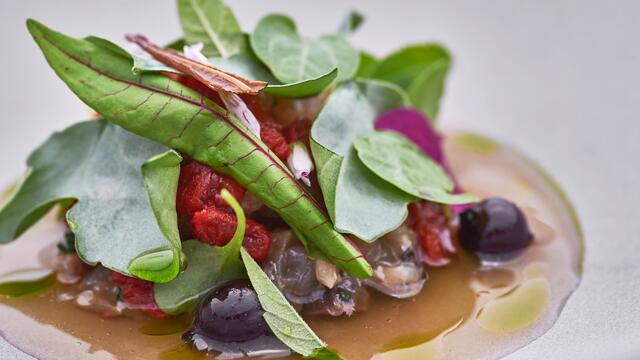 Mackerel, sorrel, tomato water with verbena, Jostaberry, Syrha Leaves, Yka Leaves
Sébastien: "The concentration of the flavours of each cress ensures that it is not confetti, but can be used to add extra dimensions to any kitchen."
Ingredients
candied tomato shells
Yka Leaves®
Syrha Leaves®
Oxalis
Spanish sorrel
silver sorrel
verbena oil
For the mackerel:
3 mackerel
2 spring onions
1 tbsp sushi vinegar
1 tbsp Ponzu
For the tomato water:
1 kg of ripe vine tomatoes
2 sprigs of basil
2 cloves of garlic
1 branch of thyme
1 branch of verbena
For the yosta berries:
yosta berries
sweet and sour moisture
Method
Parry the mackerels, cut into fine skinless cubes and mix with the remaining ingredients and julienne of the candied tomato shells.
Mix all ingredients for the tomato water and drain overnight in a gauze cloth. Taste with the verbena oil.
Spoon the tartare on the plate, garnish with the cresses, Jostaberry and sorrel and pour the tomato water around it.
***
Restaurant Ogst

Ridder Portmansstraat 4, Hasselt
Tel. 0032 11 41 38 13
www.ogst.be
Recipe: Sébastien Wygaerts
Source: Culinaire Saisonnier 89 - Summer 2018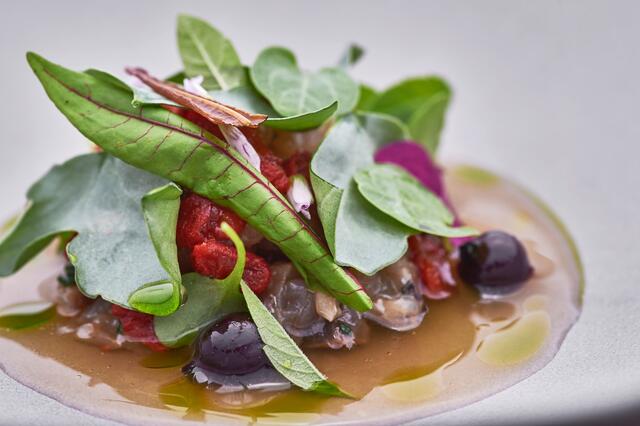 Related recipes
Gastronomical masterpieces
Related products
Say yes to the cress