Ingredients
For 4 portions
8 Floregano
4 Oyster Leaves
4 Yka Leaves
8 stems Sakura Cress
2 Jasmine Blossom flowers
5 avocados
juice from ¼ of a lemon
25gr melted butter
8 salted pistachios
2 dashes tabasco sauce
4 tbsp crème fraiche
1 tsp garlic paste
60gr Dukkha nuts
12 small slices of bread wafers
white ground pepper
fine sea salt
Method
Peel and cut each avocado in half, remove the stone and reserve 4 half to fill and the other two to make the guacamole. 
To make the guacamole, cut the avocado into pieces and place in a blitzer with the lemon juice, dash of tabasco and seasoning. Blitz and reserve. 
Brush each face (side cut) of the 4 halves with the melted butter, put face down into the Dukkha nuts and fill each cavity with the guacamole. 
Finish each avocado with 2 Floregano, 2 pistachios, the bread wafer, and Sakura Cress. 
To make the black garlic cream, mix the crème fraiche with the black garlic paste and season to taste. 
Serve with a few petals of Jasmine Blossoms, the Oyster Leaves and Yka Leaves.  
Recipe: Franck Pontais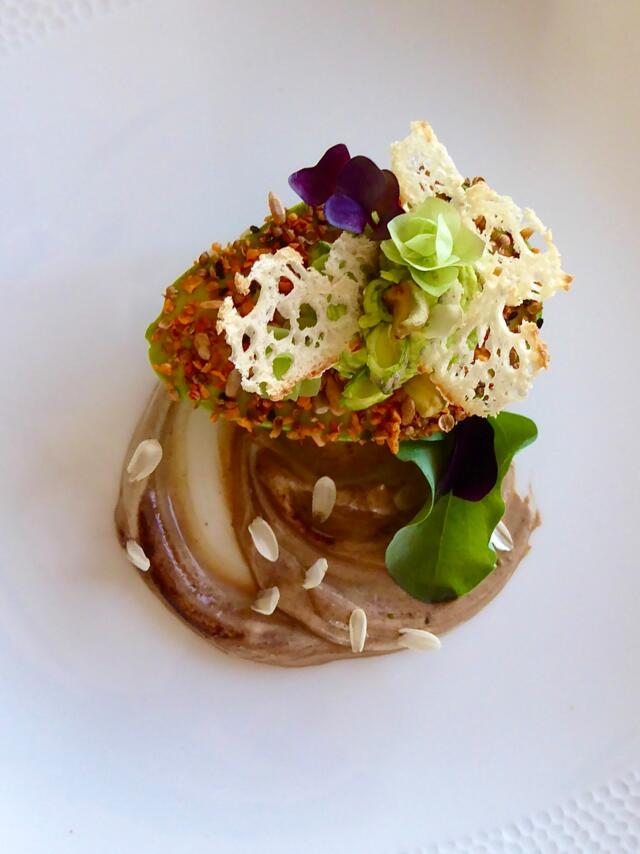 Related recipes
Gastronomical masterpieces
Related products
Say yes to the cress