Ingredients
(For 4 portions)
1 punnet Kyona Mustard Cress
2 punnets Ghoa Cress
12 purple mini carrots
20 orange mini carrots
2 saturn peaches
juice from ½ lemon
50ml plain yoghurt
30gr unsalted butter
1 tbsp olive oil
Method
For the dressing, using a pestle and mortar, grind one punnet of Ghoa Cress, add the lemon juice and the plain yoghurt. Keep aside until use. 
Wash and place the carrots on an oven tray with the olive oil and the butter. 
Cook cover in an oven at 220°C for 15 to 20 minutes. 
Cut some fine slices out of the Saturn peach, half a peach per person. 
Divide the Ghoa yoghurt dressing at the bottom of each plate. 
Arrange the carrots, the slices of peach and the freshly cut cresses. 
Serve straight away. 
Recipe: Franck Pontais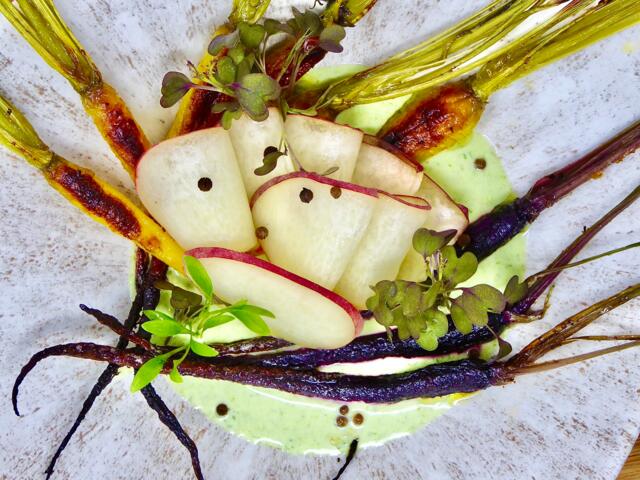 Related recipes
Gastronomical masterpieces
Related products
Say yes to the cress