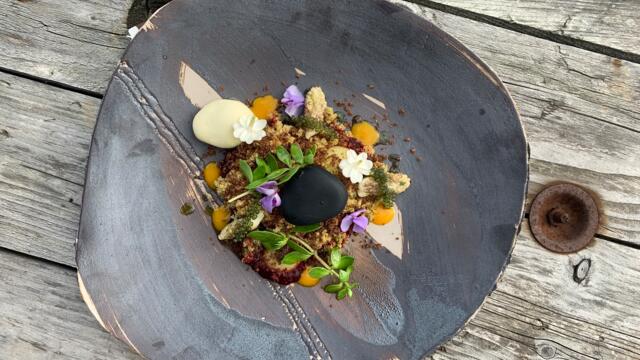 Mother Earth "Worldchefs Edition"
Ingredients
1 tiny may turnip 
2 mini potato 
5 Koppert Cress Sea Fennel 
sea-salt 
100 g beetroot gel 
1 tbsp pumpernickel ground and roasted 
1 tbsp Affilla Cress bread curls ground 
2 mini eggplants 
15 ml of Tahoon Cress oil 
3 moai caviar roe 
60 g passion fruit pulp 
2 Koppert Cress Gangnam Tops 
3 Koppert Cress Bean Blossom 
2 Koppert Cress Jasmine Blossom 
1 Koppert Cress Jasmine Blossom buffalo yogurt stone 
1 Koppert Cress Kyona Mustard stone 
Beetroot Shiso Gel:
1 liter of beetroot juice 
10 sheets (2 bowls) Koppert Cress Shiso Leaves Purple 
... mix, bring to the boil briefly, strain 
20 g agave syrup 
16 g agar agar 
2.5 g xanthan gum 
... add everything, bring to the boil again, cool and, if used, mix up with a little lime juice.
Affilla Cress bread:
100 g rye flour 
100 g wheat flour 
300 g spelled flour 
500 ml of water 
5 bowls of Koppert Cress Affilla Cress 
42 g fresh yeast 
1 dash of vinegar 
3 teaspoons of sea salt 
1 tbsp cane sugar 
1 tbsp sunflower seeds 
3 tbsp spelled flakes 
1 tbsp bread spice 
... bake at 195°C for 65 minutes.
Tahoon oil:
80 ml extra virgin olive oil 
1 bowl of Koppert Cress Tahoon Cress 
Jasmine Buffalo Yogurt Stone:
250 g buffalo yogurt 
4 Koppert Cress Jasmine Blossoms 
1 pinch of sea salt 
2 g agar agar 
0.5 g xanthan gum 
250 g goat butter 
Kyona Mustard Stone:
250 g chicken liver pate 
10 g of Cointreau 
sea-salt 
1 g lecithin 
210 g butter 
5 bowls of Koppert Cress Kyona Mustard Cress 
... heat everything together to 55°C and process into a fine mass in the Thermomix, fill molds in Pavoni stone and freeze in the shock freezer. 
For the basalt crust, mix 100g of heated coconut fat with 2 bowls of Tahoon Cress and strain, add 100g of cocoa butter and liquefy, add 1 mocha spoon of activated charcoal and stir to a black mass. Dip the frozen stones 3 times with the help of a toothpick and let them set. Ready to serve after 20 minutes. 
Method
Bake turnips and mini aubergines for 13 minutes at 195°C. Mix the Sea Fennel with water, season with salt and cook the triplets in it for 20 minutes. Halve the turnips and potatoes and arrange on the plate, place the Shiso beetroot gel on top. Sprinkle warm pumpernickel meal over it and pour the fresh Affilla Cress bread crumb over it. Remove the aubergine from the shell and remove the caviar roe, toss in Tahoon Cress oil and place with Moai Caviar. Place the two stones, pull the Gangnam Tops through Tahoon Cress oil and place them. Drizzle the rest of the oil over the plate. Finally add the passion fruit pulp and place the remaining flowers. 
Recipe: Marcel Thiele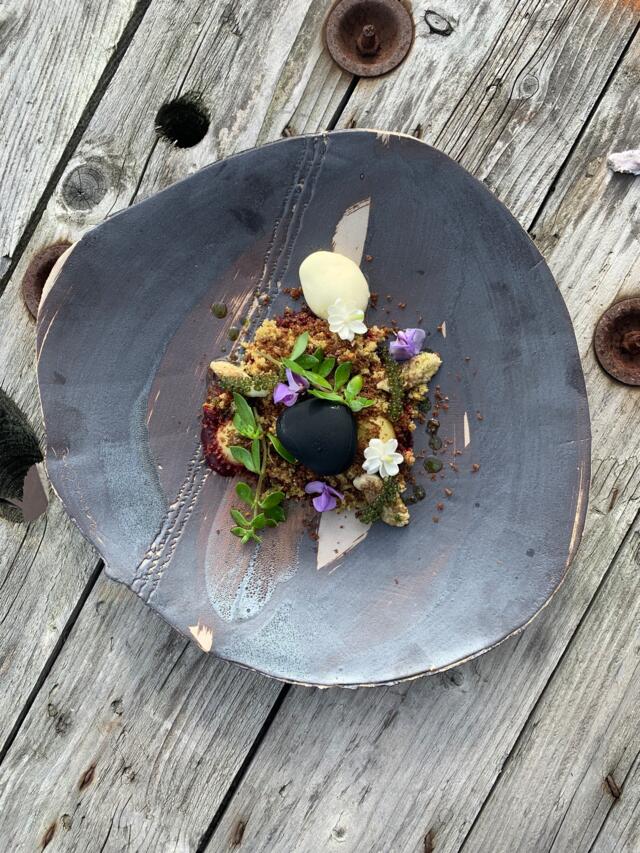 Related recipes
Gastronomical masterpieces
Related products
Say yes to the cress