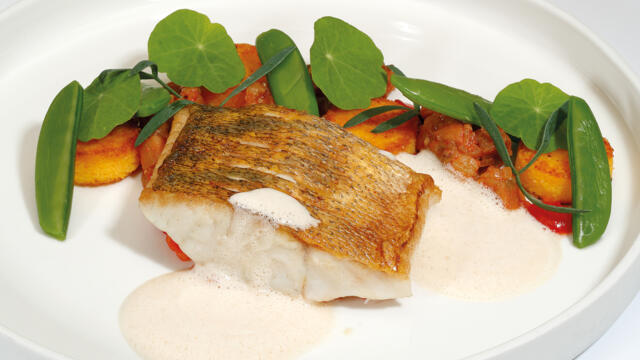 Pike perch from the Vlietlanden, baked on the skin
Skin-fried pike-perch from the Vlietlanden with aubergine compote, polenta, dried tomatoes from Osdorp and a foamy sauce of sherry and fermented garlic.
Ingredients
(For 8 servings)
pike-perch​:
1200 g pike-perch fillet (8 x 150 g)
salt
Polenta:
100 g Polenta precotta
30 cl vegetable stock
3 g garlic puree
1 pc lemon (zest of this)
10 g Grana Padano flakes
10 g butter
Eggplant Compote:
175 g aubergine brunoise (-/- peel)
85 g finely chopped shallot
6 g chopped garlic
2 g thyme (zipped)
3 g tomato paste
pepper
salt
Sherry / Fermented Garlic Sauce:
50 g banana shallot
10 g garlic
10 g fermented garlic
100 g sherry vinegar
350 g sherry (dry)
500 g vegetable stock
50 g grape seed oil
1 g of sucro
Dried tomatoes from Osdorp:
500 g Osdorp tomatoes
25 g garlic oil
1 g chopped thyme
0.5 g of chopped rosemary
pepper
salt
Zorri Cress
Sea Fennel
Method
Polenta:
Bring the vegetable stock to the boil with garlic puree. Add polenta and cook for ± 5 minutes. Add lemon zest, cheese and butter. Pour out ± 1 cm thick. If it is cold, stick it out and bake until golden brown.
Eggplant Compote:
Fry the shallot and garlic then add the aubergine. Add thyme and salt. Finally add tomato puree and peeled tomatoes. Season with salt and pepper.
Sherry / Fermented Garlic Sauce:
Fry the banana shallot and garlic and deglaze with sherry vinegar. Add sherry and fermented garlic and reduce to 1/3. Add vegetable stock and reduce to 1/2. Pass through a fine sieve. Add sucro with the hand blender.
Dried tomatoes from Osdorp:
Skinning tomatoes. Cutting (de-seeding). Brush the tray with garlic oil, then pepper and salt. Place tomatoes side by side on the platter and coat each with garlic oil. Sprinkle chopped thyme and rosemary on top. Add pepper and salt and let it dry in the oven for ± 1 hour at 95°C.
Zander:
Place pike-perch skin side down in the pan with oil. Sprinkle salt over it (so not over the skin side). Gently fry on the skin side to make the skin crispy. If the skin is crispy then turn and leave for 3-4 minutes.
Recipe: Jeroen van Brecht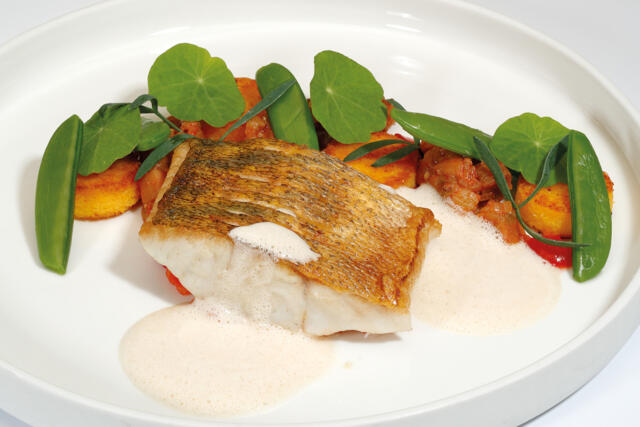 Related recipes
Gastronomical masterpieces
Related products
Say yes to the cress