Ingredients
(For 12 canapes)
½ punnet Melissa Cress
12 pieces of BlinQ Blossom
12 pieces quail eggs
2 muffin breads
130gr sliced smoked salmon
2 tbsp olive oil
2 tbsp vegetable oil
lemon zest from one lemon
lemon juice from the same lemon
½ tsp Dijon mustard
Method
Split the muffin bread into 2 halves and cut out 3 round canapes base with a round cutter in each half. 
Place the canapes base on a tray and toast in a hot oven for a couple of minutes. 
Lay the slices of salmon and cut out 12 circles with the same cutter used for the bread. 
Place each circle of salmon on top of each bread. 
Pour the vegetable oil at the bottom of each mould (silicon mould) and cook the quail eggs in the moulds, in a Bain Marie, on the stove. 
To make the dressing, emulsify the olive oil, lemon juice and mustard together. 
Arrange the cooked quail egg on top of the salmon and add the lemon dressing, lemon zest, BlinQ Blossom and Atsina Cress. 
Recipe: Franck Pontais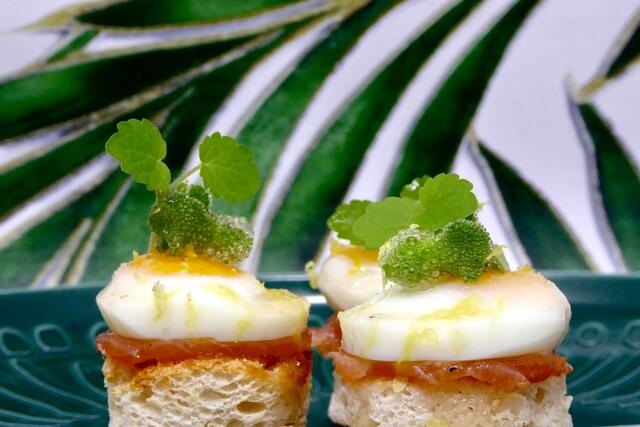 Related recipes
Gastronomical masterpieces
Related products
Say yes to the cress