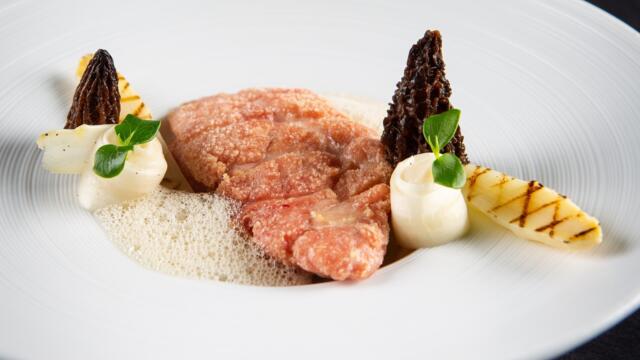 Creamy asparagus and crispy sweetbread
Source: Culinaire Saisonnier
Creamy asparagus and crispy sweetbread in a foamy smoked asparagus sauce.
Ingredients
16 pcs AA asparagus
4 large fresh morels
600 g veal sweetbreads
2 dl asparagus cooking liquid
2 dl cream
25 g butter
250 ml herbal oil
1 lime
1 shallot
1 clove of garlic
pepper
salt
Method
Fleece the sweetbread and brine it in wet brine overnight. Rinse the sweetbreads well, portion them and cook in a steam oven at 75°C for 45 minutes. Immediately dip the sweetbreads in ice water. Peel the asparagus and cook 10 pieces under vacuum with some butter and salt for 5 minutes in the steam oven at 95˚C. Cool them back immediately. Halve 4 asparagus lengthways and grill them on the barbecue. Cut strips of 1 raw asparagus and marinate with zest and juice of 1 lime, pepper and salt. Cut spaghetti from 4 raw asparagus. Turn the remaining cooked asparagus with some cooking water into a smooth cream and season with salt and pepper. Brush the morels well and fry them in butter, pepper, salt, garlic and shallot. Fill the morels with the asparagus cream. Smoke the remains of the asparagus and mix it with cream and stock. Season with salt and pepper and pass through a sieve. Fry the sweetbread until crispy and arrange all components on a plate.
Source: Culinaire Saisonnier
Photographer: Dirk Kerstens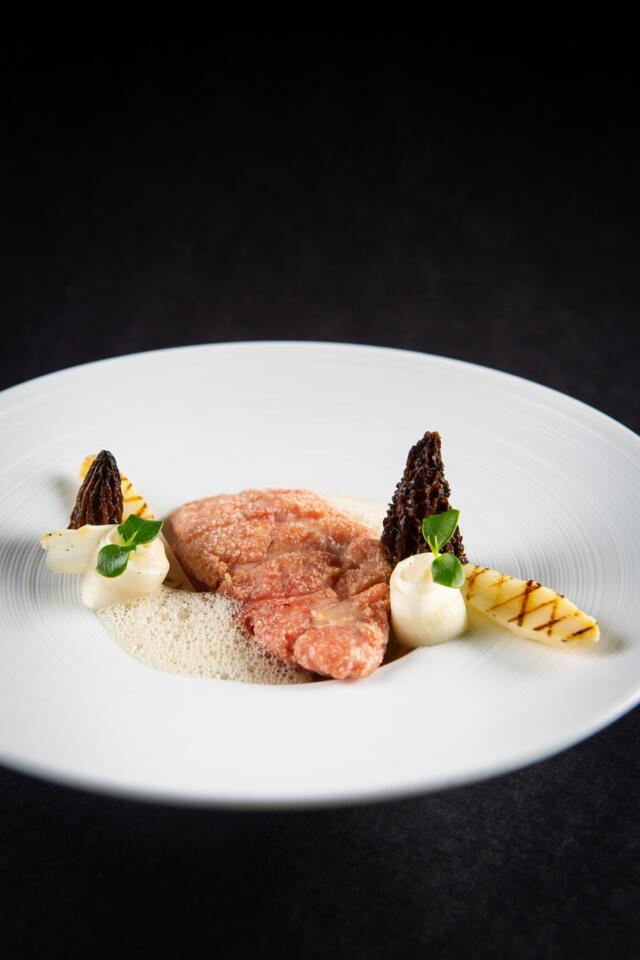 Related recipes
Gastronomical masterpieces
Related products
Say yes to the cress