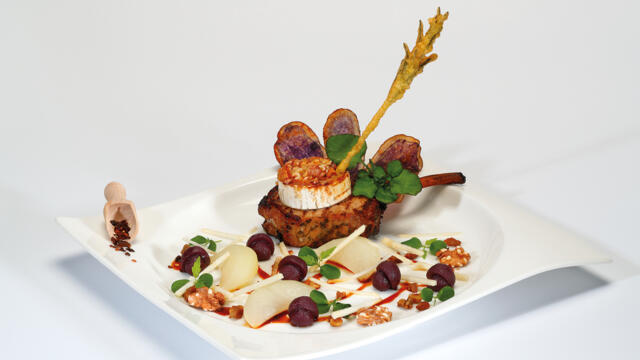 Rare fried rib of Frisian free-range pig au gratin with Brabant goat cheese
Ingredients
Free-range pig: 
4 220/240 g pork chops from the Gaasterlands herb pig (± 1 kg each, including bone) 
2 cloves of garlic 
1 tbsp sea salt 
2 sprigs of rosemary 
2 tbsp honey 
2 tbsp brown caster sugar 
4 tbsp walnut oil 
4 tbsp grain genever 
coarsely ground pepper 
Goat cheese: 
4 thick slices of Bettine Blanc matured goat cheese 
2 tbsp thyme honey 
2 tbsp walnut oil 
50 g chopped walnuts 
Kohlrabi: 
2 pcs kohlrabi 
100 g fresh bacon cubes (cut from the ribs) 
60 g butter 
1 dl apple juice 
50 g raw cane sugar 
1 tbsp soy sauce 
Dark beer gravy with rosemary, apple and honey: 
1 bottle of Oijens dark beer 
50 g apple syrup 
1 sprig of chopped rosemary 
2 tbsp honey 
Truffle potato: 
Garnishes / Decoration: 
Tahoon Cress / Hippo Tops 
4 sprigs of fried rosemary 
coarsely ground smoked jalapeño pepper 
freshly grated apple 
roasted walnuts
Method
Free-range pig:
Scrape the bones of the pork rib nicely and make a fine cut on the fat. Then brush the fat side with the honey, chopped garlic, finely chopped rosemary, brown sugar, coarsely ground pepper and sea salt. Drizzle with gin and walnut oil. Let it soak for a while and cut 4 nice chops shortly before baking.
Goat cheese:
Cut 4 nice thick slices of the goat cheese, 1 to 1½ cm thick and brush with honey and sprinkle with walnut oil. Chop the walnuts and sprinkle over the cheese slices. Keep the cheese slices until transfer.
Kohlrabi:
Peel the kohlrabi and turn it into desired shapes. Briefly blanch in water with salt and rinse them cold. Then cut the fresh bacon into nice fine cubes and fry it in a pan over low heat until all the fat has melted out. Deglaze with the apple juice and let all the moisture evaporate. Then add the butter and let it melt. Now add the cane sugar and soy sauce, let the sugar dissolve and keep this until serving.
Truffle potato:
Drill beautiful small pearls from a few truffle potatoes and blanch them briefly in water with salt, and cut a few truffle potatoes into nice thin slices and fry them to nice crispy potato chips. Keep both types of potato until serving. Before serving, fry the pork chops short and crispy on both sides and then remove from the pan and place on a plateau (keep warm under a grill or at a low temperature in an oven). Deglaze the shortening with the dark beer and let it reduce to the desired thickness. Then add the apple syrup, chopped rosemary and honey and keep the gravy warm until serving. Shortly before serving, turn the gravy smoothly with a hand blender. Heat the liquid from the kohlrabi until it is slightly viscous and glaze the kohlrabi in it. Place the slices of goat cheese on the chops and gratin them under a hot grill or salamander until the cheese starts to melt, (make sure that the meat remains nice and rosé but is certainly warm on the inside)
Decoration:
Place or place the pork chop on preheated plates with the bone up. Arrange the glazed kohlrabi around it and serve the bacon cubes in the center of the plate. Garnish with the syrupy beer gravy. Sprinkle some potato pearls around it. Garnish the top with a few pieces of potato chips and insert a crispy fried rosemary stalk. Sprinkle with roasted walnuts and garnish with Tahoon Cress and Hippo Tops. Grate some fresh apple over it at the last minute. If necessary, turn some freshly ground smoked jalapeño pepper on the plate.
Recipe: Marco van Oort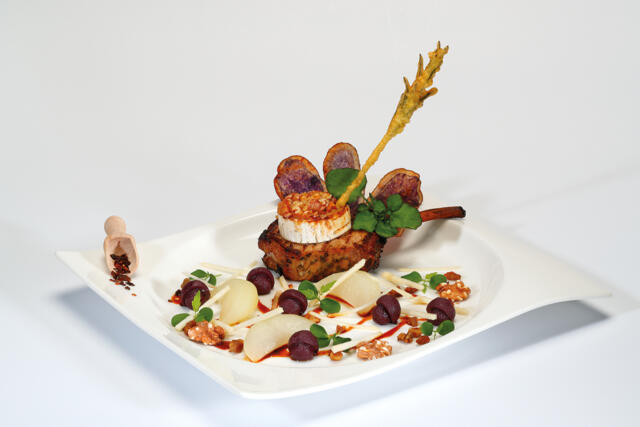 Related recipes
Gastronomical masterpieces
Related products
Say yes to the cress