Ingredients
(For 4 portions)
For the feuille de brick tart case: 
2 sheets of feuille de brick pastry 
20g butter, melted  
For the oyster mayonnaise: 
50g freshly shucked oysters 
28g pasteurised liquid egg yolk  
10g glucose syrup  
3g fine sea salt  
0.3g xanthan gum  
180ml rapeseed oil 
For the scallop ceviche: 
2 hand-dived scallops (large, responsibly sourced) 
1 tbsp rice wine vinegar  
1 tbsp lime juice  
1 tbsp honey 
1 pinch salt  
To serve 
½ punnets Apple Blossom 
12 pieces Hippo Tops 
60gr Radish
Method
(For 4 portions)
For the feuille de brick tart case: 
Preheat the oven to 175°C. 
To make the tart case, lay one sheet of the pastry on a clean dry bench and brush the top side with the melted butter.  
Lay the second sheet of pastry over the top and press it down with the palm of your hand. Place in the fridge for 15 minutes.  
Use an 8cm ring cutter to cut out 4 discs from the pastry.  
Push the disks into a 5cmx1.5cm fluted tart case, ensuring it's evenly distributed around the edges.  
Place a second tart case on top and press it down to secure the pastry in place. Repeat for the remaining 3 tart cases.  
Bake the cases for 8 minutes until golden brown.  
Remove the cases from the oven and allow to cool slightly before gently removing the feuille de brick tart cases from the moulds.  
For the oyster mayonnaise: 
Add all ingredients to a jug blender and blend on a high speed until smooth and emulsified.  
Pass through a fine mesh sieve and spoon into a piping bag.  
Keep for no more than 24 hours.  
For the scallop ceviche: 
Slice the scallops thinly and then dice into small pieces.  
Combine with the other ingredients minutes before serving.  
Strain off any excess liquid on kitchen paper before spooning into the tart cases.  
To serve:
Slice the radish into very fine julienne and put into ice water.  
Spoon the scallop ceviche into the tarts, evenly distributing between the 4. 
Dress the scallop tarts with the oyster mayonnaise and julienne radish, in a criss cross formation.   
Serve with picked Apple Blossom petals and Hippo Tops.
Recipe: Kenny Markham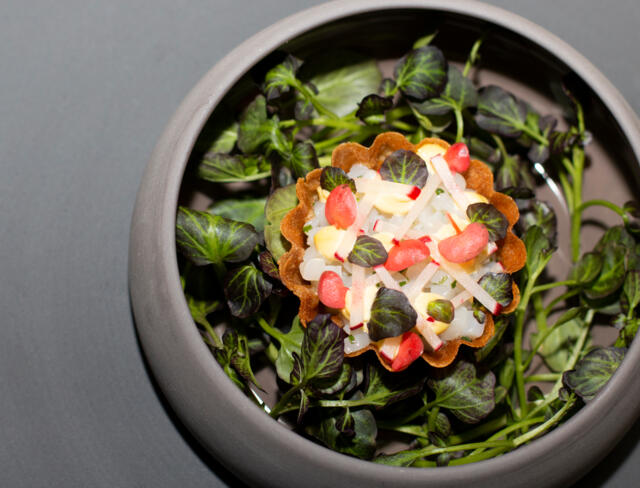 Related recipes
Gastronomical masterpieces
Related products
Say yes to the cress