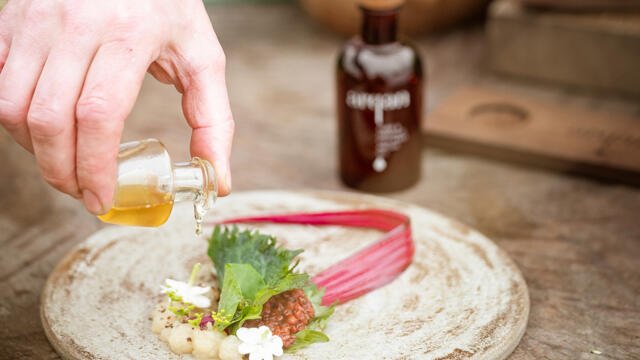 Shiso Bulgur
Bulgur salad in a shiso leaf, fruity ginger cream, jasmine buffalo yoghurt and argan oil.
Ingredients
Shiso Leaves Green
1 mustard cabbage leaf filled with glazed pear and Genovese pesto
buffalo yogurt and Jasmine Blossom
bladed chard leaf vein
ARQAN argan oil
Apple and ginger cream:
200 ml Boskoop apple juice
100 ml Williams pear juice
100 ml of ginger juice
8 g agar agar
yuzu juice
fennel pollen
Bulgur salad:
250 g bulgur, coarse
450 ml birch water
3 spring onions
1 beetroot
100 ml beetroot juice
1 vanilla bean
1 teaspoon pesto Genovese
cumin
paprika powder
Saba di Pere
60 g strawberry jam
Maldon salt
Method
Apple and ginger cream:

Boil everything together with agar agar, allow to solidify and mix with yuzu juice to form a gel. Finish with pollen.
Bulgur salad:
Pour boiling hot birch juice over the uncooked bulgur, season with ½ teaspoon Maldon salt and leave to soak for 15 minutes. Chop the spring onions and sweat with the vanilla, add the pesto and all other ingredients and mix with the bulgur, then mix cold with the strawberry jam. Fill into glasses with Saba and the vanilla and store in the refrigerator until ready to use.
Recipe: ARQAN Wild Cooking – Signature Dish II by Spicehunter® Marcel Thiele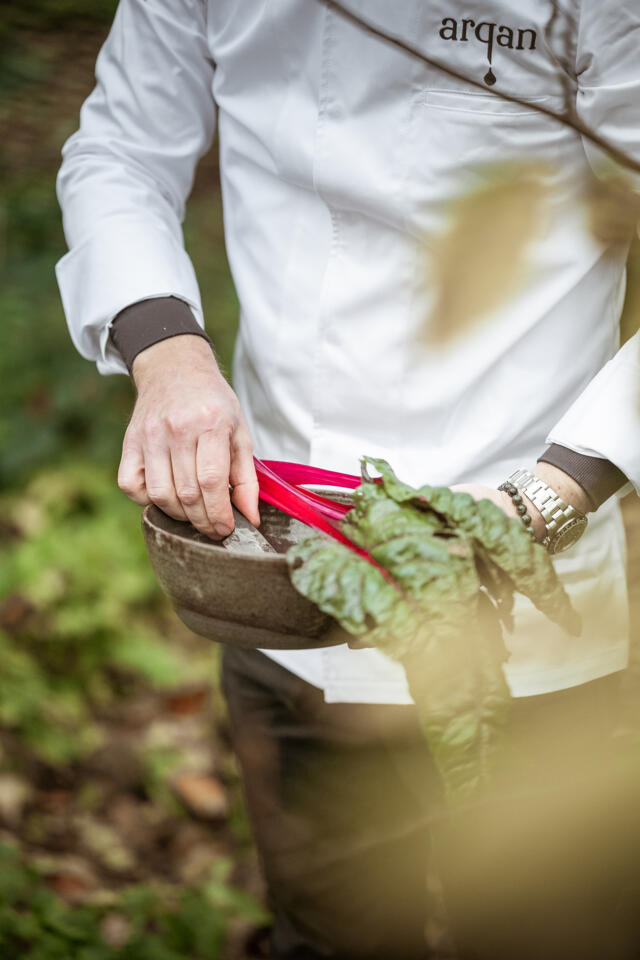 Related recipes
Gastronomical masterpieces
Related products
Say yes to the cress