Ingredients
(For 4 portions)
2 punnets Sakura Cress
800g blanched cauliflower fleurettes
80g butter
70g plain flour
750ml soy milk
140g grated mature cheddar cheese
1 tsp finely chopped garlic
½ tsp ground paprika
½ tsp ground cumin
½ tsp hot curry powder
½ tsp ground tumeric
2 pinches table salt
1 pinch white ground pepper
Method
In a small bowl, dilute and blend all the spices in 2 tbsp of soy milk. 
Bring to simmer the rest of the soy milk. 
Using a saucepan, melt the butter and add the flour all in once to make a roux. 
Add in the hot milk and the spices and whisk for 30 seconds. 
Add the grated cheese and cook for another minute or two.  
Chop 1 punnet of Sakura Cress and fold gently into the spicy sauce. 
Add the cauliflower to the mix and fold gently. 
Divide the cauliflower into 4 casseroles and place those under the grill until they get a nice coloration. 
Serve hot with the rest of the Sakura Cress.  
Recipe: Franck Pontais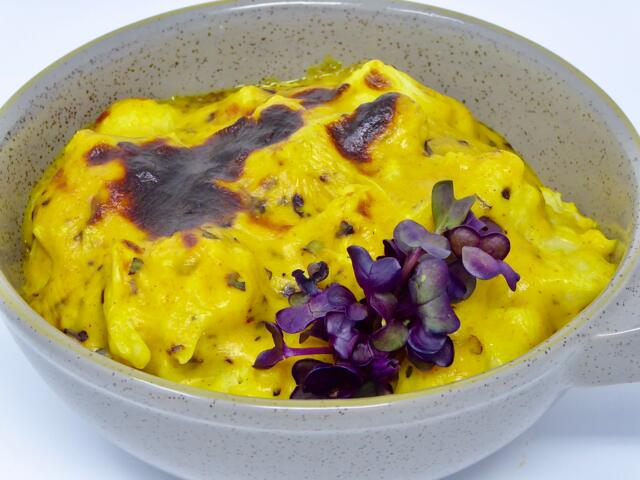 Related recipes
Gastronomical masterpieces
Related products
Say yes to the cress