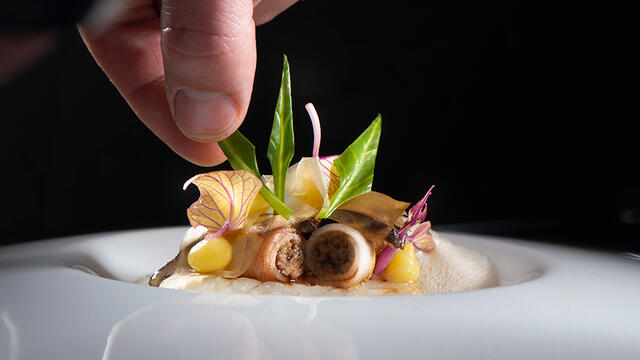 St. Pierre and Sweet Peeper
Torben Schuster: "I prefer to cook what I like and especially with the cold dishes I sometimes want to bring some theatre to the plate, although always functional."
Ingredients
St. Pierre fillets
sea salt
Sweet Peeper
baby spinach
For the bacon dashi:
500 g dark smoked bacon
2 onions
2 slices of kombu
10 dried shiitakes
60 g bonito flakes
5 l strong vegetable stock
5 dl sake
For the bacon foam:
2 dl clear bacon dashi
rice vinegar
lecithin
For the shiitake duxelles:
500 g of shiitake
5 cl sake
3 shallots
salt
For the lemon puree:
700 g lemon zest
700 g lemon juice
80 g of butter
125 g of sugar
250 g of orange juice
14 g of agar
10 g citras
For the pork belly:
1 kg pork belly
50 g of ginger
3 cloves of garlic
40 g of salt
For the shiitake:
10 medium sized shiitakes
5 cl sake
salt
For the shiroita kombu algae:
2 cl rice vinegar
150 g of sugar
2 dl water
algae
Method
Dice the bacon for the dashi, sweat on and add the chopped onions. Deglaze with the sake and fill with the vegetable stock.
Add all remaining ingredients except the bonito flakes and let it steep for 3 hours. Now add the bonito flakes, remove from the heat and pour the mass through a cloth.
Prepare the dashi with 1 dl low-salt soy and 200 g protein, pour through a cloth and reduce to the desired taste.
For the foam, mix all ingredients and foam with the hand blender. Cut the shiitake and shallot into small cubes, sweat, extinguish with the sake and let it boil dry.
Season with salt. Boil the zest 4 times in clean water. Mix in the blender to 50°C with the lemon juice, add the butter and sugar and mix the mixture smooth.
Bring the orange juice to a boil and add the agar and citras. Add to the lemon mass and mix smooth. Pass through a fine sieve, allow to harden and blender smooth.
Vacuum all ingredients for the pork belly and infuse cool for 24 hours. Turn the abdomen every 2 hours.
Steam the belly in the oven at 60°C for 16 hours, let it cool, cut thin slices and make filled rolls with the duxelles.
Place the shiitakes with the hat down in a tin, baste with the sake and sprinkle with some salt. Cook in the oven at 160°C for 10 to 15 minutes and cut into pieces.
Make a sweet and sour liquid and let the algae simmer covered for 35 minutes. Allow to cool in the liquid and portion.
Grill the fish fillets, dress all components on the plate and garnish with baby spinach and Sweet Peeper.
***
Restaurant Gut Lärchenhof

Hahnenstraße 1, Pulheim, Duitsland
T 0049/2238 9231016
www.restaurant-gutlaerchenhof.de
Recipe: Torben Schuster
Source: Culinaire Saisonnier 93 - Summer 2019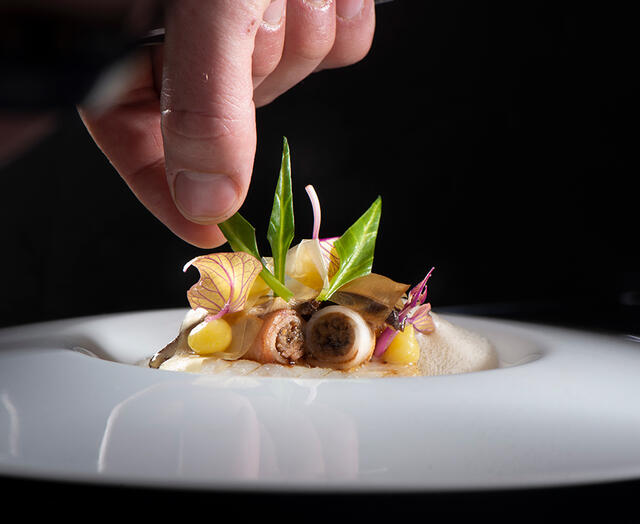 Related recipes
Gastronomical masterpieces
Related products
Say yes to the cress