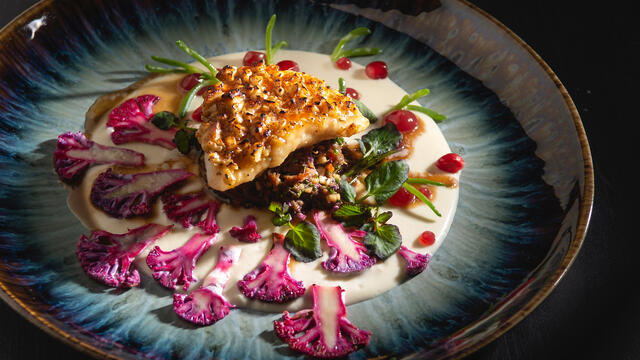 St. Pierre with veal breast
Grischa Herbig just cooks what he likes. Where the environment has no limit, so does his kitchen.
Ingredients
Salty Fingers®
Hippo Tops
pomegranate
cauliflower Purée
purple cauliflower slices
slices of St. Pierre
For the ras el hanout:
20 small dried bay leaves
2 tsp cinnamon blossoms
8 tsp coriander seeds
8 tsp caraway seeds
8 tsp ginger powder
8 tsp black peppercorns
8 tsp dried thyme
4 tsp cayenne pepper
4 tsp ground nutmeg
2 tsp star anise powder
2 tsp cardamom seeds
2 tsp cloves
2 tsp allspice
For the crust:
400 g of sugar
500 g cashew nuts
500 g soft butter
10 chopped thyme sprigs
White pepper
salt
1 tbsp ras el hanout
For the pomegranate gel:
300 g of pomegranate puree
30 g campari
30 g of grenadine syrup
50 g of verjuice
5 g of agar
1 g guar son
0.5 g citras
For the veal breast:
veal breast
salt
pepper
allspice spelt
garlic
thyme
shallot
soy sauce
veal gravy
brunoise of celery and carrot
chopped chives
grated purple cauliflower
Method
Grind all the ingredients for the ras el hanout and reserve in a dry place. Roast the cashew nuts, make a caramel of the sugar and add the nuts.
Pour the mass on a silpat, let it cool and chop finely. Beat the butter completely white and add, the nut mass, thyme, pepper and salt.
Make rolls with plastic wrap and reserve cool. Cut 3 mm thick slices from it. Bake the purple cauliflower without colours and season with lemon juice, pepper and salt.
Bring all the ingredients for the gel to a boil, let cool and blender until smooth. Vacuum the veal breast with 250 g soy, half a bulb of garlic and salt, pepper and allspice.
Cook in the steam oven for at least 8 hours, pick the meat and heat with some veal gravy and blanched carrot and celery brunoise and add the chives.
Serve the cauliflower puree on the plate and spoon some veal breast on it. Bake the St. Pierre around brown, give cuisson and gratin with the nut butter.
Dress with the other components and garnish with the Cresses.
***
Restaurant La societé

Kyffhäuserstraße 53, 50674 Köln, Duitsland
Tel. 0049 221 232 464
www.restaurant-lasociete.de
Recipe: Grischa Herbig
Source: Culinaire Saisonnier 92 - Spring 2019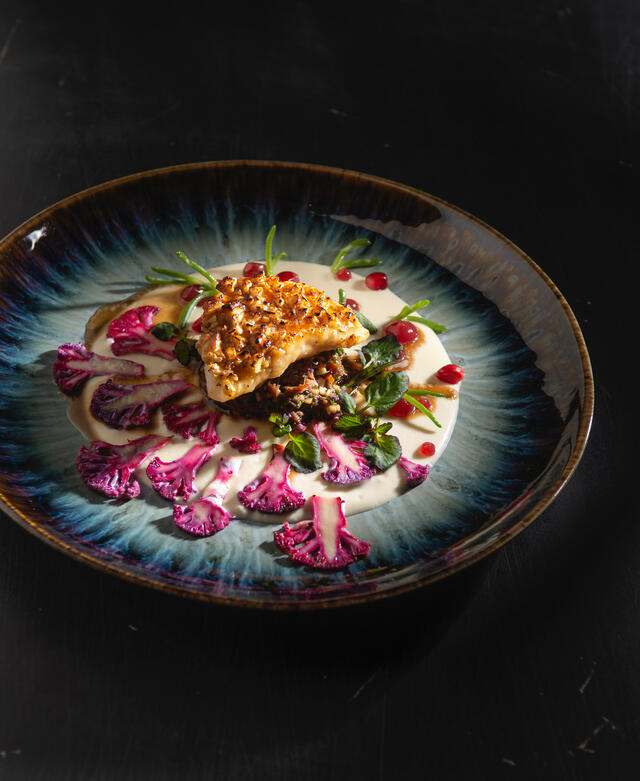 Related recipes
Gastronomical masterpieces
Related products
Say yes to the cress