Ingredients
(For 4 portions)
8 Aikiba Leaves  
8 medium tomatoes on a vine  
1 tbsp olive oil     
120g goat cheese     
80g diced black olives 
40g diced shallots   
100g mascarpone cheese
1 pinch turmeric  
2 pinches table salt    
1 pinch white ground pepper 
Method
Blanch, peel and cut the tomatoes into quarters.
Reserve 4 tomatoes for the filling and deseed the other 4 in order to get some perfect flat pieces.
Lay some cling film on the bottom of 4 half-sphere moulds and cover with the pieces of tomato.
Deseed the rest of the tomatoes and dice into brunoise.
Using a mixing bowl, carefully fold the goat cheese with the diced tomatoes, diced black olives and diced shallots. Season to taste and fill the half sphere.
Close with another cling film, press gently and let set in the fridge for one hour.
Pull the cling film gently out of each mould and place each tomato sphere in the middle of each plate and brush with the olive oil.
Melt the mascarpone in a saucepan gently and add the turmeric and the seasoning.
Let it cool down a little, pass the sauce through a fine sieve and pour the sauce around each tomato sphere.
Serve with Aikiba leaves. In this recipe, we added a slice of black olive on top of a white boiled egg for decoration.
Recipe: Franck Pontais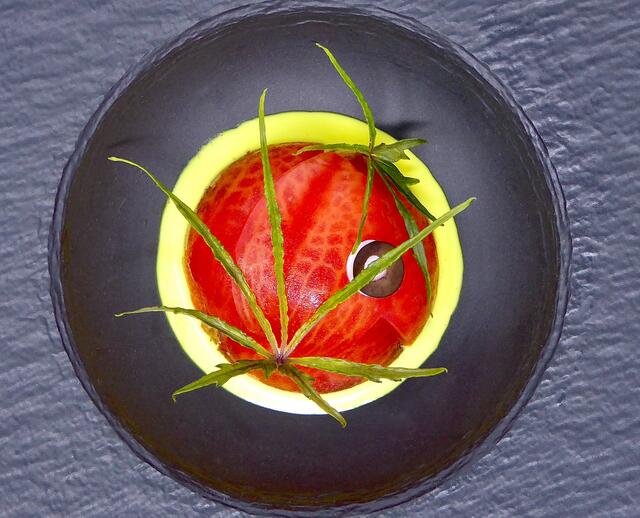 Related recipes
Gastronomical masterpieces
Related products
Say yes to the cress