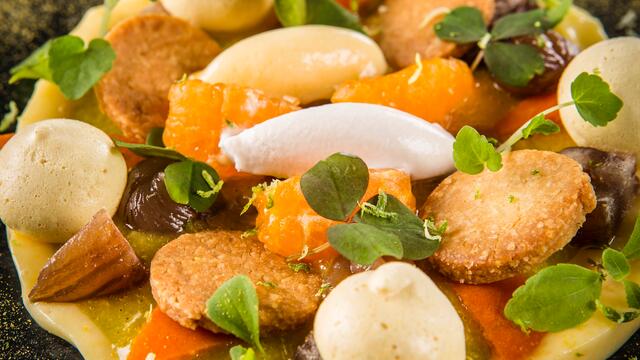 Cake, chestnut, clementine, wood sorrel, Limon Cress, Atsina Cress
Chef René Mathieu of Château de Bourglinster, who is also a doctoral student in herbs and game picking, does not use cress as decoration, but as exclusive flavour components.
Ingredients
Limon Cress
Atsina® Cress
candied chestnuts
caramelized chestnuts
clementine segments
For the chestnut ice cream:
500 g candied chestnuts
5 candied chestnuts
25 cl of milk
15 cl cream
1 tbsp rum
For the marmalade:
4 clementines
4 mandarins
20 g mandarin peel
juice of 1 lemon
50 g of sugar
For the clementine cream:
100 g of clementine juice
1 grated clementine skin
50 g of sugar
2 eggs
45 g of butter
1/2 sheet of gelatin
For the candied clementine:
20 clementines
300 g of sugar
For the clementine meringue:
200 g of clementine coulis
300 g of sugar
30 g of protein powder
For the clementine sorbet:
75 cl fresh clementine juice
200 g of sugar
juice of 1 lemon
1 protein
For the sugar dough:
80 g of butter
25 g of sugar
42 g egg yolks
50 g of almond powder
100 g flour
pinch of salt
grated lemon zest
Method
Mix the milk with the cream and rum. Coarsely cut the 500 g chestnuts, add to the mixture, mix and turbine in the ice cream maker. Cut the 5 chestnuts in brunoise and add to the rotating ice.
For the marmalade, peel the clementine and tangerines and cut the segments out. Place in a saucepan with the 20 g zest, lemon juice and sugar and cook to a marmalade. Chop the whole and keep aside.
For the cream, beat the juice with the eggs and the sugar au bain-marie, add the soaked gelatin and the butter, emulsify and reserve in a pastry bag. Peel the 20 clementines and cut in half.
Place the half clementines flat in a pan, cover with the sugar and leave to simmer for 2 hours on low heat. Mix all sorbet ice cream ingredients, pour into paco or frix cups and freeze.
For the meringue, beat the clementine coulis with the egg white powder, spray caps and dry overnight at 80°C. For the sugar dough, mix the butter with the sugar in the planetary mixer and add the yolks.
Then add the almond powder and flour. Wrap in film foil and leave to cool for 2 hours. Roll out thinly, cut out rings, sprinkle with lemon zest and bake in the oven at 180°C for 12 minutes.
***
Château de Bourglinster

Rue du Château 8, Bourglinster – Luxemburg
T  00352 787 878 1
www.bourglinster.lu

Recipe: René Mathieu
Source: Pâtisserie & Desserts - 45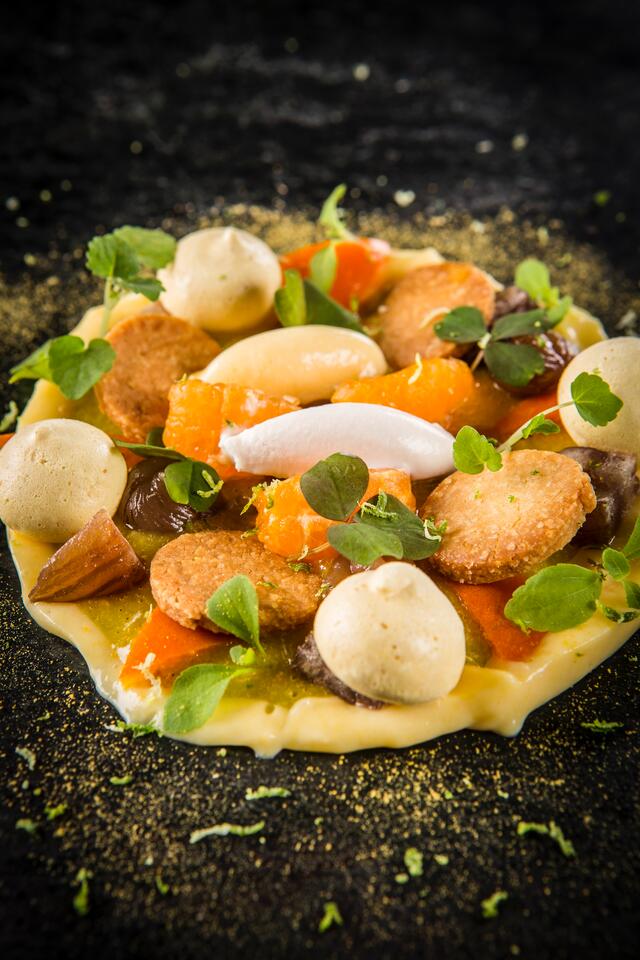 Related recipes
Gastronomical masterpieces
Related products
Say yes to the cress