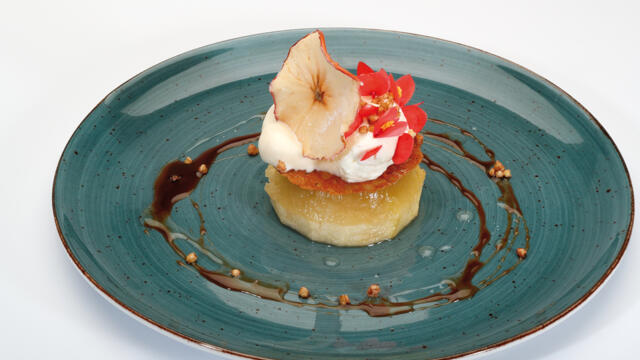 Tarte tatin of Limburg apple & syrup
Tarte tatin of Limburg apple & syrup, "oudewijvenkoek", cream of blossom, puffed buckwheat, Berenburg ice cream.
Ingredients
(For 4 servings)
Tarte tatin:
5 firm, sweet and sour apples
60 g sugar
30 g butter
"Oudewijvenkoek" cake:
400 g of flour
250 g brown sugar
250 g butter
1 egg
5 g baking powder
5 g "oudewijven" herbs (anise powder, cinnamon, anise, cloves and a little cardamom)
2 g of salt
Cream of blossom:
3 dl whipped cream
20 ml elderflower syrup
Puffed buckwheat:
50 g buckwheat
sunflower oil
Berenburg ice cream:
1 vanilla pod
4 egg yolks
150 g brown sugar
200 ml of milk
50 ml Berenburg
400 ml of whipped cream
125 g sugar
Garnish:
Method
Tarte tatin:
For the tarte tatin, peel the apples, remove the bell houses with the apple corer and put the skins and cores under water in a pan. Let it boil for at least 20 minutes so that a syrup is formed. Make a dry caramel by melting the sugar in a spotless, thick-bottomed pan. Don't stir, just mix the caramel by moving the pan back and forth. When the caramel is lightly colored, add the butter, stir and remove from heat.
Preheat the oven to 150°C.
Using the apple corer, take four cylinders from one apple and put them in the holes of the other four apples.
Divide the caramel over the aluminum containers, place an apple on top and bake in the oven for one hour. Let them cool down.
"Oudewijvenkoek" cake
Mix the butter and sugar. Then knead the sifted flour, with the herbs, baking powder and salt already mixed in it. Let the dough rest a bit, then roll out and cut into slices of about eight cm. Bake in a moderately warm oven 170°C for 15 minutes until light brown and done.
Puffed buckwheat:
Boil the buckwheat. Dry this under a heat lamp or in an oven at 70°C. When it is completely dry, you can roast it at 220°C in the sunflower oil.
Cream of blossom:
Beat the whipped cream firmly with the elderflower syrup.
Berenburg ice cream:
Make the Berenburg ice cream by heating the milk, cream, sugar, brown sugar, vanilla pod and the Berenburg in a pan to 90°C. Loosen the yolks in a bowl with a whisk and slowly add the hot composition. Let cool and mature. Turn in the ice cream maker until smooth ice.
Arrange the tarte tatin on the plate and put the old wifecake on top. Make a nice quenelle of the blossom cream, put it on the cake, together with a scoop of ice cream. Make beautiful stripes with the apple syrup and garnish with the Apple Blossom!
Wine suggestion: Achterhoekse Strowijn Hesselink 2013, Winterswijk, The Netherlands: A powerful support.
Recipe: Dion Kluft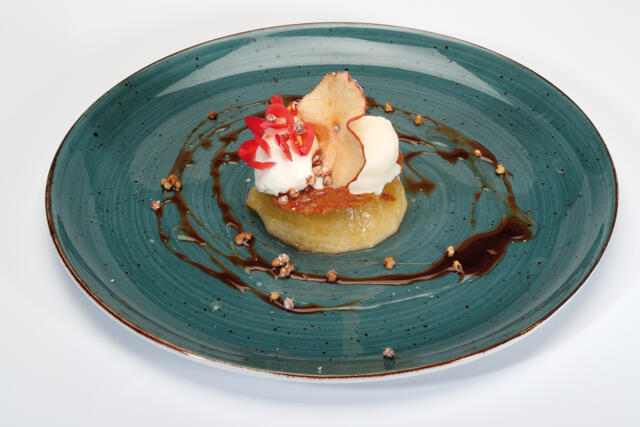 Related recipes
Gastronomical masterpieces
Related products
Say yes to the cress