Ingredients for 1500 milliliters
1 l water
40 g kombu
65 g katsuobushi
2 kg razor clams
100 g shallot
6 pieces lemongrass
2 cloves garlic
10 g parsley stems
30 ml sunflower oil
200 g white wine
2 pods Planifolia Black Vanilla
200 g milk
600 g whipping cream
4 g soy lecithin
as needed lemon juice
as needed salt and pepper
Method
Vacuum seal the water with the kombu and katsuobushi and leave to infuse into dashi for at least 12 hours.
Heat a pan and add the razor clams, along with the dashi.
Drain the razor clams when they are cooked just right, reserve the stock.
Cool the cockles back on ice water and use for another preparation.
Sweat the onion, lemongrass, garlic, and parsley stalks with the sunflower oil.
Deglaze with the white wine and reduce by half.
Now add the cockle dashi broth and seeds of Planifolia Black Vanilla, boil gently until reduced by half.
Add the milk and cream and leave to infuse for 20 minutes.
Strain the sauce base and season with lemon juice, salt, and pepper. Add the soy lecithin and use a stick blender to mix well.
Foam the sauce à la minute with a stick blender for a foamy result.
Do not heat the sauce above 80°C as the lecithin will lose its effect.
Serving suggestions
Delicious in a dish with components of tomato, cod, and fennel.
Goes perfectly with salmon, grapefruit, and liquorice.
Pairs well with scallops, hazelnut, and truffle.
Recept: Gastronomixs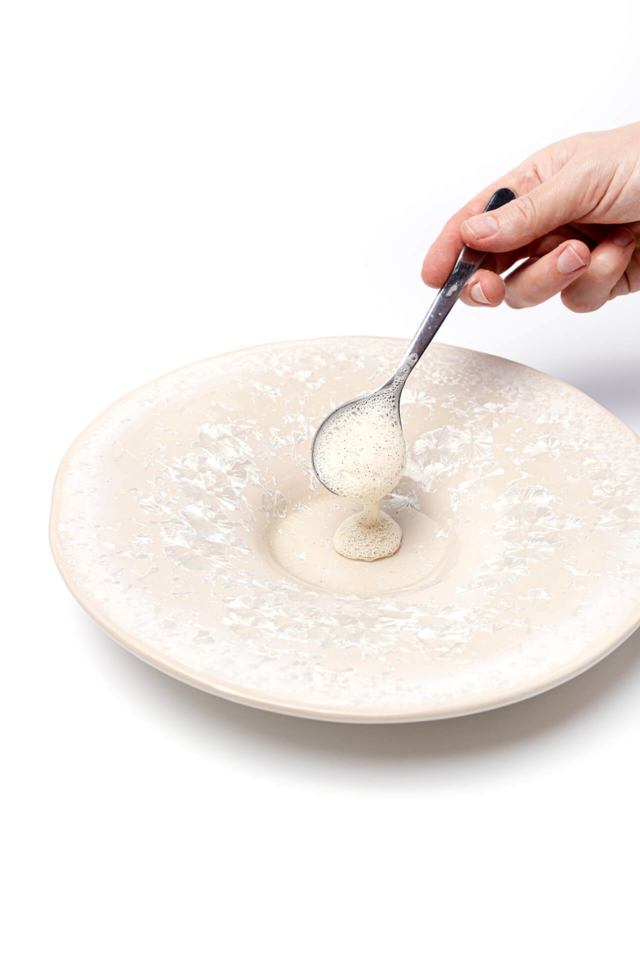 Related recipes
Gastronomical masterpieces
Related products
Say yes to the cress