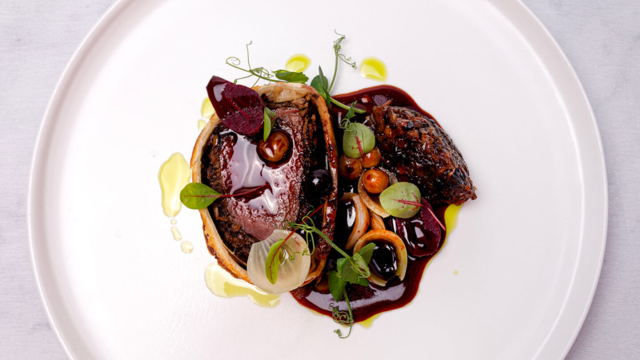 Wellington of venison with onion, game jus with beet, bay oil, salsa of pecan and black garlic
,
Salt-conscious three-course Christmas menu
Ingredients for 10 people
Ingredients venison wellington
1 kg deer tenderloin
750 grams chestnut mushrooms
thyme
10 leeks, blanched
375 grams spinach
250 grams of puff pastry
2,5 egg
Ingredients steamed onions
500 grams baby onions, mixed
10 black peppercorns
1 piece of bay leaf
40 ml olive oil
Ingredients game gravy with beet
3 grams of mustard seeds
1,25 juniper berries
0,6 star anise
1,25 cloves
6,25 black peppercorns, crushed
62,5 grams onion, chopped
1,25 cloves of garlic, finely chopped
19 g olive oil
62.5 ml. port
125 ml. beet juice
125 grams veal demi glace
500 g game broth, home-made without added salt
pepper as required
Ingredients bay leaf oil
10 grams of bay leaf
17 grams parsley, blanched
100 grams of sunflower oil
Ingredients salsa of shallot, pecans and black garlic
120 grams shallot, cut into fine brunoise
40 grams white wine vinegar, Tromp & Rueb
40 grams of sugar
80 grams of white wine
24 grams of black garlic
60 grams of pecans
56 grams of extra virgin olive oil
Other Ingredients
Method
Method deer wellington
Clean the venison tenderloin and roll up tightly in cling film, refrigerate overnight.
Fry the tenderloin briefly until golden brown all around.
Finely crush the chestnut mushrooms in a food processor.
Brown the mushroom mixture in the pan and season with thyme and pepper.
When all the moisture has evaporated from the mushrooms remove from the pan and allow to cool.
Steam the leeks for 8 minutes at 100°C and cool back on ice water.
Separate all the layers.
Place the layers of leeks on a piece of plastic wrap.
Spread the mushroom mixture evenly over the leeks.
Place the beef tenderloin on top of the mushroom mixture and roll up tightly.
Roll out the puff pastry and wrap the rolled-in beef tenderloin in the puff pastry.
Beat an egg with a little water and brush the puff pastry all around twice.
Bake the Wellington golden brown in the oven at 200°C for about 15-20 min.
Let it rest for 10 minutes and slice.
Method for steamed onions
Clean the onions and cut in half lengthwise.
Pull the onions vacuum with the pepper, bay leaf and olive oil.
Steam the onions for 10 minutes at 100°C in the steamer.
Cool back on ice water.
Separate the slats and serve at room temperature.
Method of red beet gravy
Toast the spices in a dry pan over medium-high heat until a creamy.
Now add the onion, garlic and butter and sauté gently.
Deglaze with the port and allow the alcohol to evaporate.
Cook until reduced by half.
Then add the veal demi glace, blood orange coulis and game stock and very gently reduce to half.
Sieve the gravy and reduce further to gravy thickness.
If necessary, thicken with a clear binder and season with pepper.
Method bay leaf oil
Place all ingredients in a thermoblender and spin at full speed for 7 minutes.
Pour into a container and refrigerate overnight.
The following day, drain the oil on a fine sieve.
Method salsa of pecan & black garlic
Put the shallot, white wine vinegar , sugar and white wine together in a saucepan over low heat and reduce gently all the way to a slightly sticky texture.
Finely chop the black garlic cloves.
Roast the pecans for 10 minutes in the oven at 160°C, until golden brown.
Finely chop the pecans by hand.
Mix the shallot with the black garlic, sunflower seeds and olive oil.
Total amount of salt: 0.7 grams per person
Link to dish
Recipe: Gastronomixs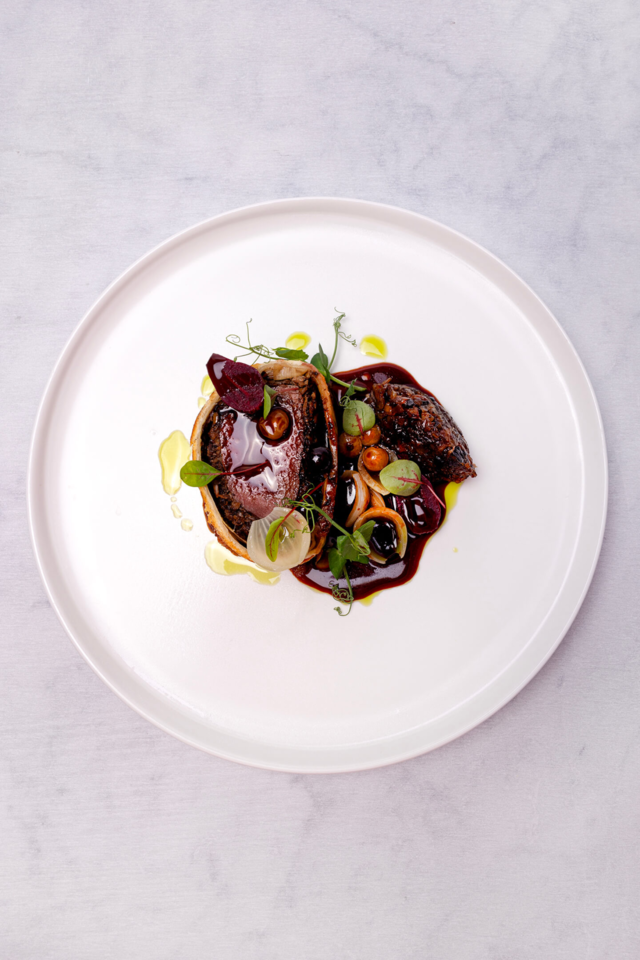 Related recipes
Gastronomical masterpieces
Related products
Say yes to the cress