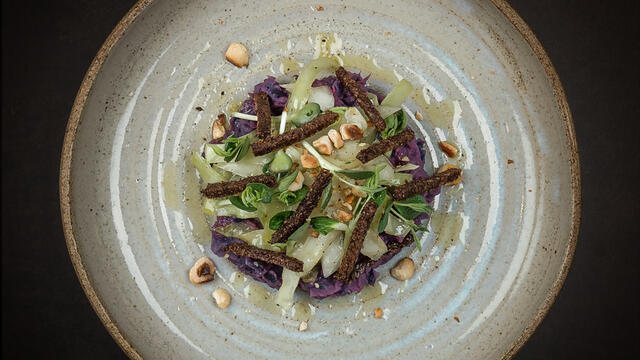 White cabbage tagliatelle, mashed red cabbage, hazelnut, crusts of pumpernickel bread
,
Frank Fol – The Vegetables Chef®
Ingredients
(For 4 portions)
1 small red cabbage
1 small white cabbage
1 kg soft boiling potato
2 cloves of peeled garlic
2 slices of pumpernickel bread
Bay leaf Verstegen
Roasted hazelnuts
Cup of Lupine Cress - Koppert Cress
Butter
Mace powder Verstegen
Black pepper Verstegen
Coarse sea salt Verstegen
Method
Red cabbage:
Chop red cabbage and garlic finely. Stew with a knob of butter without coloring.
Peel potatoes, cut into pieces and wash.
Add potato and bay leaf to the red cabbage and moisten with water to 2/3.
Season everything with mace, sea salt and black pepper. Cook together under the lid until the potato is cooked. Drain some cooking water, not all.
Remove bay leaf and stir the mash until well blended.
White cabbage:
Remove the outer leaves and wash the cabbage. Then cut the white cabbage into strips of about 1 cm, a handful per person.
Stir fry this until crispy in a little butter and season firmly with pepper and sea salt. Add some water and stir well. Color slightly.
Pumpernickel:
Cut the slices of pumpernickel in the middle and then into equal bars.
Fry these in the pan until they are slightly crispy.
To finish off:
Spoon a sturdy scoop of warm mash into the center of each plate. Divide some stir-fried white cabbage ribbons over this.
Spoon some butter from the pan around each preparation.
Finish with the pumpernickel crusts, the Lupine Cress and some broken hazelnut.
Recipe: Frank Fol - The Vegetables Chef®
Photo: Wim Demessemaekers, Photographer | @wim_dmskrs
Preparation time: 30 minutes 
Techniques: veggies 
Plate: Wild White Plate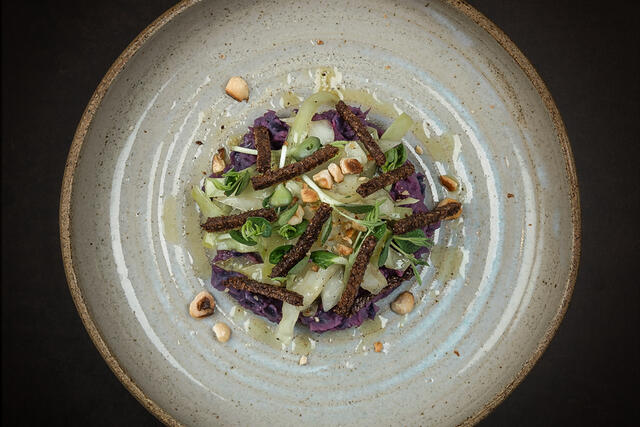 Related recipes
Gastronomical masterpieces
Related products
Say yes to the cress