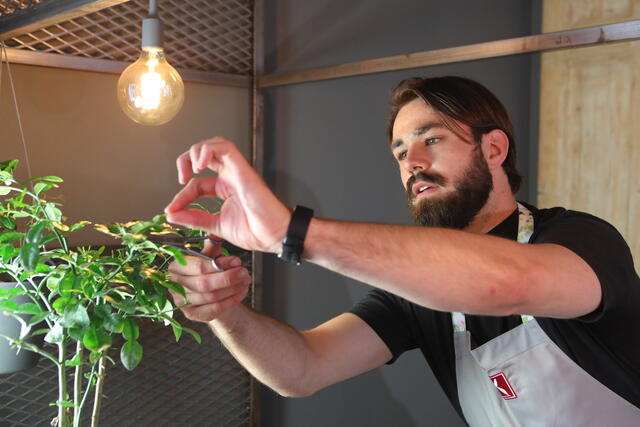 Circular cocktails
There's a young man behind the bar at Koppert Cress. He stands out because of his exuberant beard; one that many hipsters would be jealous of. He holds a bottle of orange drink in his hand with a striking label: Dik & Schil.
The story behind Dik & Schil
Dik & Schil is, in their own words, 'the fruit of the minor Entrepreneurship at the University of Amsterdam'. Stijn Fischer (the young man behind the bar), together with Branco Bolsius and Luc van Niftrik, studied psychology at this university. The assignment they were given was to set up a sustainable project. From their shared experience and passion for the hospitality industry, circularity quickly emerged as a topic. Stijn: "There is a perception that sustainable and circular products are not attractive or sexy. We want to prove the contrary and make a product that is fun, tasty and cool, without compromising on quality and product experience. We know that coffee grounds (Dutch: koffiedik) and orange peels (sinaasappelschil) are common residual flows that are separated well in the hospitality industry. That separation is important for the production process, so we started with those. Hence the brand name Dik & Schil."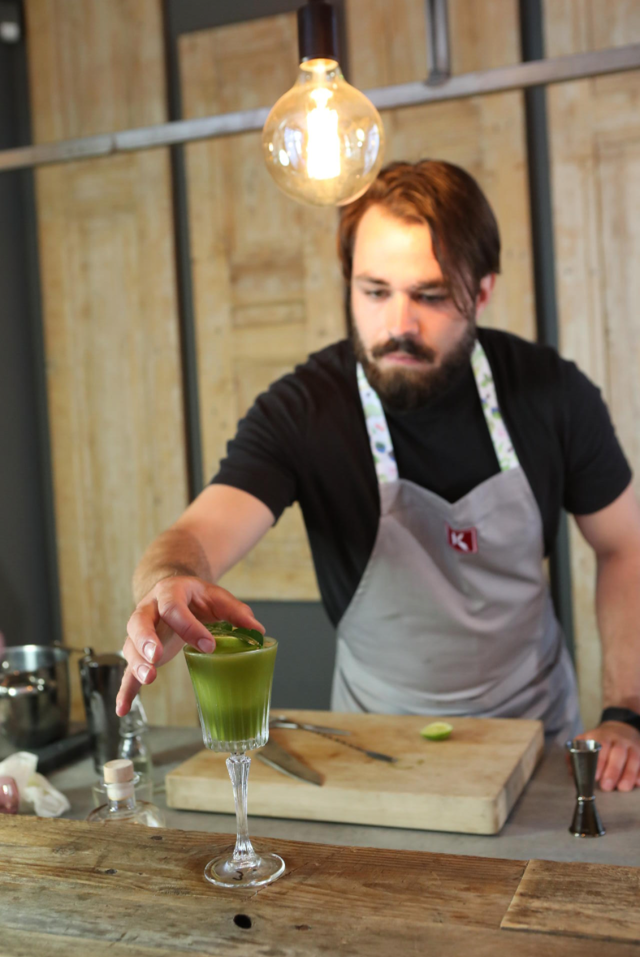 Perservering in peeling
These three gentlemen gave a new twist to the well-known Limoncello recipe. Instead of lemons, they use orange peels 'saved from the green waste', which are collected by cargo bike from local businesses. Only the zest of the peels is used, so yes, the men sometimes spend days from 9 to 5 in their dorm room peeling the zest of the orange peels. Stijn: "The white part is bitter, so you definitely don't want it. We only go for the zest, because that contains the citrus oils. That's what gives it the fresh orange flavor. It's a lot of work, so a lot of companies don't even start, but that doesn't stop us. We are still cheap labor ourselves and we will also work together with, among others, social work places. The logistics are arranged by a partner who coordinates and collects the wastestreams. The intention is that we will soon be able to convert more types of residual flows into new products."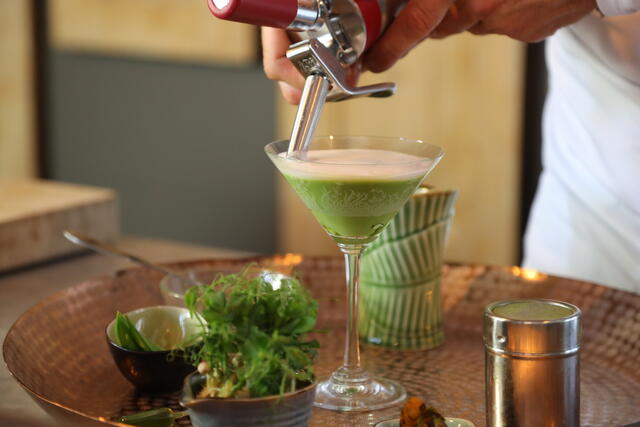 Koppert Cress ingredients
In addition to coffee grounds and orange peels, the men started working with a number of Koppert Cress residual flows. Stijn: "We ended up at Koppert Cress in a crazy way. A friend of mine is a cook and he has worked at Central Restaurante in Peru and Restaurant de Kas in Amsterdam, among others. In these kitchens he came into contact with Koppert Cress products. When he wanted to do the Food Design course in Eindhoven, I helped him film a video application. We also visited Koppert Cress for this, because the company was forced to throw away product in the first corona wave since all restaurants closed. People were invited to pick up these products. We actually came to the greenhouse because of the video, but we ended up talking to culinary advisor Eric Miete, who started a conversation with us about tinctures. These are alcoholic solutions in which herbs are often used. He told us what we could do with plants and one thing led to another. We had discussed different flavor combinations in no time. So, in addition to the existing liquors, we also started working on a gin made from Shiso Leaves, Kaffir Lime Leaves and Cardamom Leaves."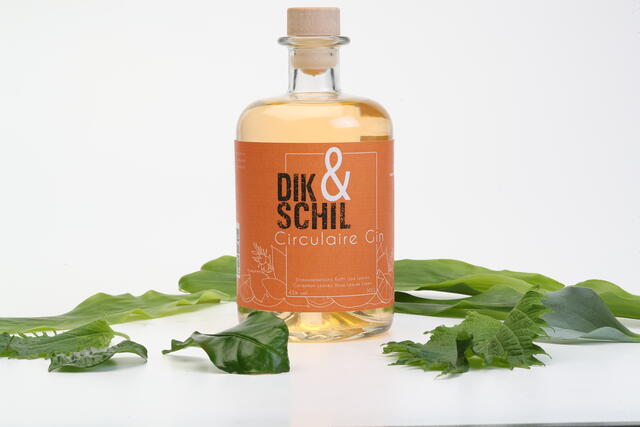 Flavour combinations
A new product obviously requires a creative photo and video shoot. While the media team revolves around them, Stijn is putting the finishing touches on the Dik & Schil sour behind the bar. Meanwhile, Eric finishes the fresh spring rolls with utmost concentration. And voila; a summery looking creation. The cherry wood tray gives you the feeling of being in Japan. It's not just a pretty picture, Stijn likes to look for the perfect flavor combinations between drink and dish. "We want to collaborate with the kitchen, just like we did with Eric today. Eric is in charge of the bites and I focus on the cocktails. When Eric arrived with fresh, fruity mango spring rolls I knew; this should be matched by a fresh cocktail. A prominent sour with lime makes this a good combination."
The freshness is followed by the sweeter and dessert-like 'Flammkuchen', which includes Cardamom and orange. Stijn: "We want the ingredients from the dish to reappear in the cocktail. Every pairing therefore has at least one cress in common, often even several."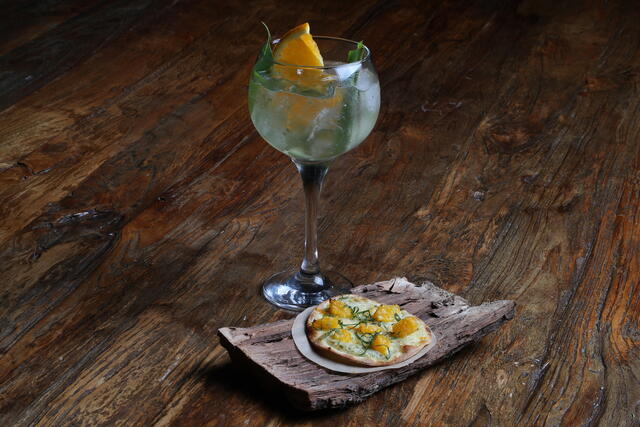 A real attention grabber
Stijn learns from liquor retailers that although the products are popular among a diverse audience, they are certainly popular with women and especially older people. Stijn: "They are liquors, so they are often a bit sweeter. We try to give it a naughty and younger twist, because we also want to organize parties and (cocktail) events to bind the young audience."
The practical applicability is also considered. Stijn: "We know from experience that everything we do behind the bar cost money, so we look for solutions in which few actions lead to a great experience for the customer. Just look at the Orangecello Spritz, a variation on the Aperol Spritz. Very easy to make, very tasty and it arouses interest: the beautiful orange color certainly attracts attention. The Gin Tonic is also interesting; as soon as you place it on a tray with a Cardamom leaf in the glass and stroll across the terrace with it, you notice that the other guests are looking back." So it is that easy to offer customers that extra feeling of luxury.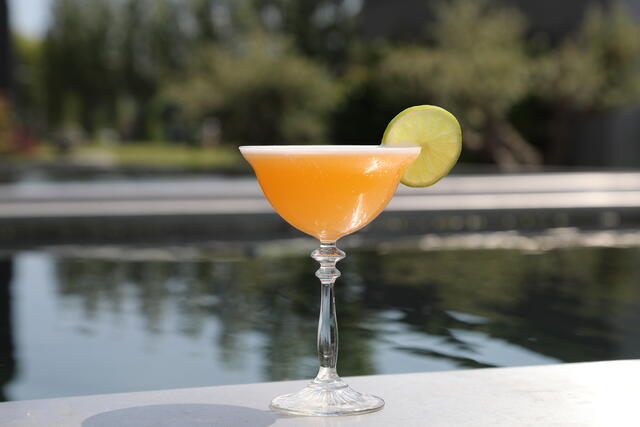 Let's grab a drink
Because it is a high-quality and handmade product, the production process is by definition more expensive than if you would mass produce. Stijn: "Nevertheless, we don't want to market it too expensively, because it has to be accessible to the general public. Now it's coffee grounds, orange and cress, but it could be anything. The end product doesn't necessarily have to be a drink either. The more products we can process, the better. We want to make it big."
Then a final call-to-action, as it is so beautifully called in marketing. If you think "I know of a residual flow that I want to convert into a cool product", please do not hesitate to contact Dik & Schil, because the three creative men are eager to start working with you.
Contact: https://dikenschil.nl/contact-us