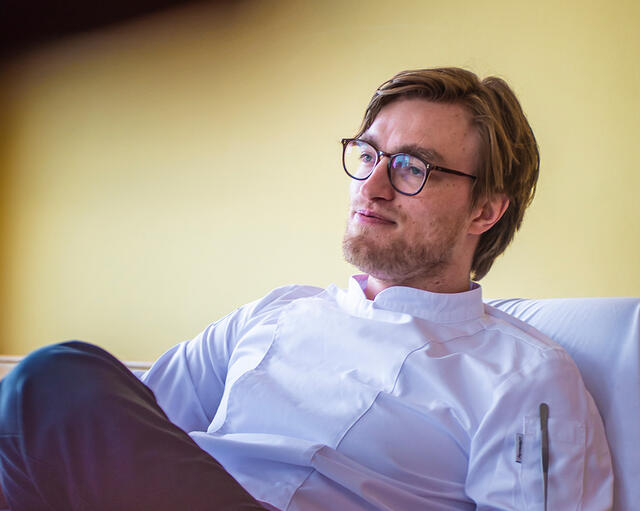 Koppert Cress bij Gut Lärchenhof
,
Culinaire Saisonnier
Torben Schuster gained his experience at Jonnie Boer in Zwolle and Nagaya in Düsseldorf, among others.
Torben Schuster
Torben Schuster gained his experience at Jonnie Boer in Zwolle and Nagaya in Düsseldorf, among others. Now he is the chef of Gut Lärchenhof, the gourmet restaurant belonging to the golf course.
We taste inventive flavors with careful acidity, whereby the Koppert Cress cresses provide intensive flavor accents, always carefully dosed.
Born and raised in Dormagen, near Cologne, he never wanted to return to this place, but fate decidedly differently. His parents have nothing to do with gastronomy and Torben does not know what he wants with his life. School is not really dedicated to him, but he still finishes it. He then studies mechanical engineering, but never finishes it. He certainly does not want to do this.
How do you end up in gastronomy?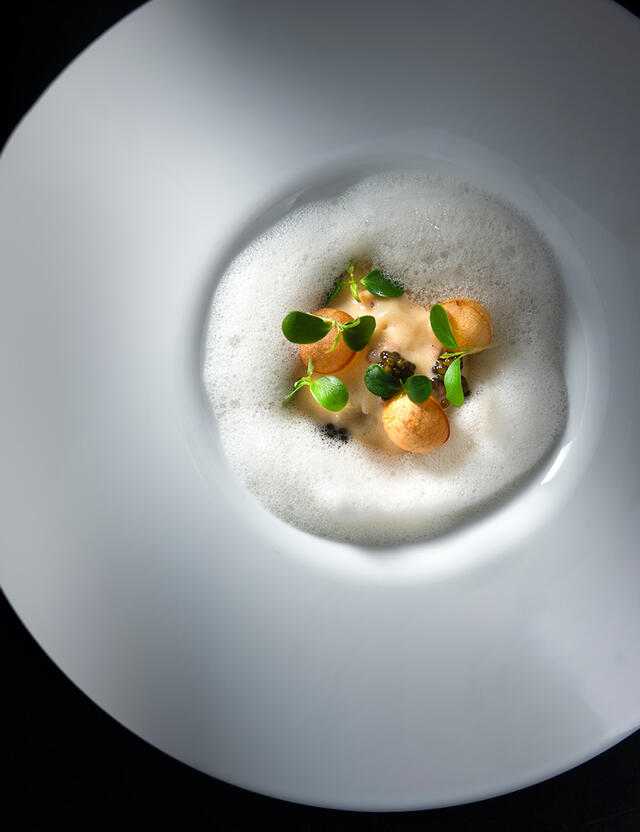 Torben Schuster
Torben: "I regularly cooked with my mother, and happily prepared dishes and decided that that might be my passion.
I regularly helped her in the kitchen when there were dinners at home and visibly enjoyed it. So I decided to enter the German learning system. Work four days and go to school one day a week. During that training I gained three years of practical experience at restaurant Berens am Kai in Düsseldorf, an internationally distinguished business. I was completely absorbed in my work and where I used to be a party animal, I completely immersed myself in the kitchen. I only cooked, both at work and at home. And in the few free moments I had, I went into town looking for ingredients. Then I went to Jonnie Boer's De Librije for a little over two years."
He becomes part of the parti entremetier. His immediate superior quickly leaves and after three months he has to take over the parti. Here too, he goes for it all the way. He learns about fish, and works in the garde-manger and then after two years the battery is empty. Torben is done with the mental pressure and discipline and decides to travel through Europe with his girlfriend in a Volkswagen van.
Some food, some drinks, some surfing, life is good.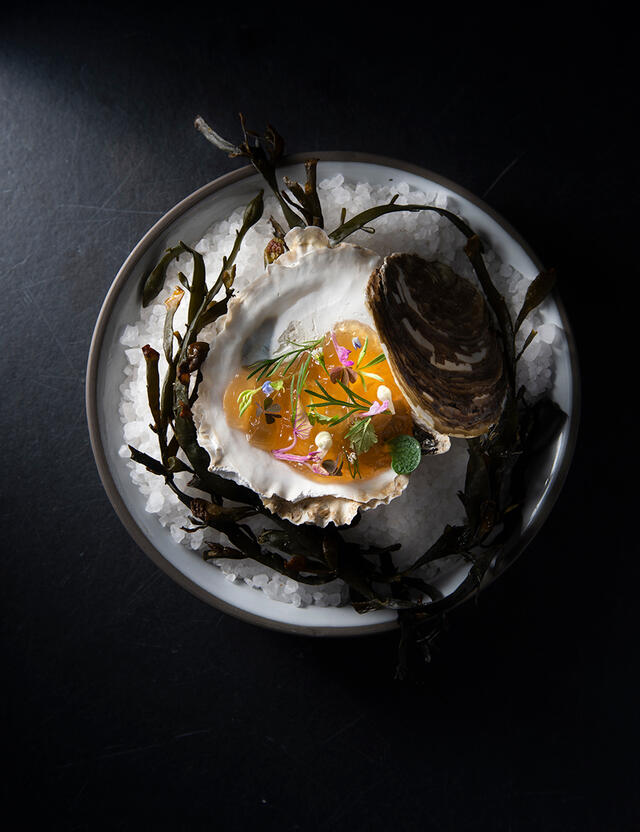 Perfection
"My head was completely empty and I dared to think about cooking again. But I am picky, wanted to learn something again and a culinary highly distinguished restaurant in Germany could not help me. I applied to Frantzen, Nagaya and Etxebarri in Spain. Only Nagaya responded and I became sous chef, I stayed there for three years. I love how the Japanese view their product and technology. The Japanese have an automatic urge to continue to perfect and improve. That appeals to me and is now also the way I want to develop myself."
After three years, it is clear to Torben that he must continue. He happens to get his place at Gut Lärchenhof by chance, he sees the vacancy and applies, the rest is history. Now, a year and a half later, there is already a clear signature that excels in acidity and creativity, without losing sight of the essence.
"To make a decent kitchen, you need some space and a good team. The kitchen is great and I can handle almost anything. I managed to form the team in a year and a half. Almost no one had any experience at the highest level and that means that you can shape them completely to your own liking. It is now a real dream team. That takes a lot of time and energy. By fully cooperating, the team follows automatically and we have the same goal together. "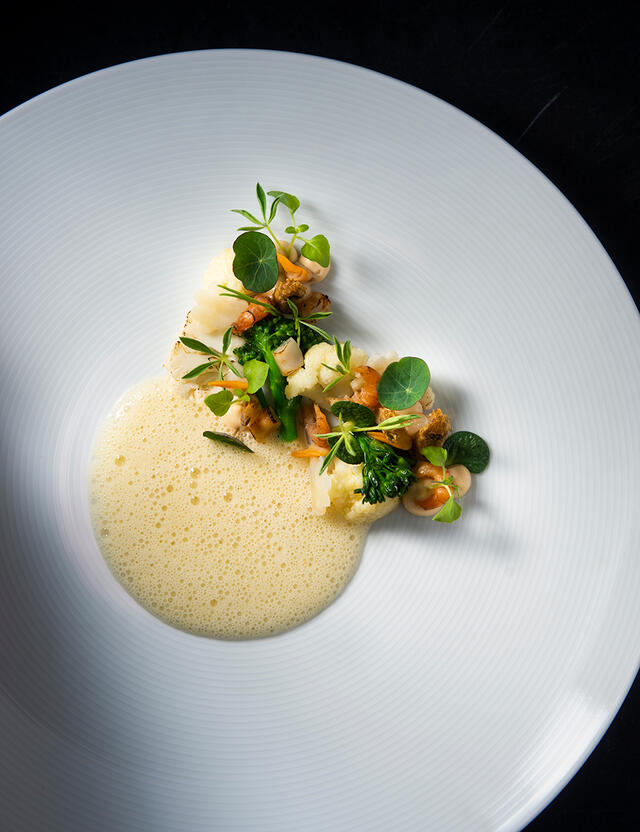 As a chef
Torben is a lover of the best. Asparagus from Pertuis, flat oysters from Zeeland and lamb from the Limousin. He loves good quality. Because of this he also ended up at Koppert Cress.
"We are lucky to be able to pick quite a few wild herbs around the restaurant here, but that is not enough for us. We would like to bring a modern fresh kitchen that has an international character. I like to cook what I like and especially with the cold dishes I sometimes bring some theater on the plate, although always functional. The space is there for that too. While the main courses are closer to the essentials, simply because they don't last as long."
"The Koppert Cress cresses help to add nuances to the dishes. I am also crazy about the acidity of the cresses that closely match my cooking style. I am very demanding, both for myself, my team and the products I work with. It's almost never good enough, but Koppert Cress always knows how to convince me. In the pace at which I develop, I keep looking for novelties and Koppert Cress is a company that never stands still, which is why we fit so well together."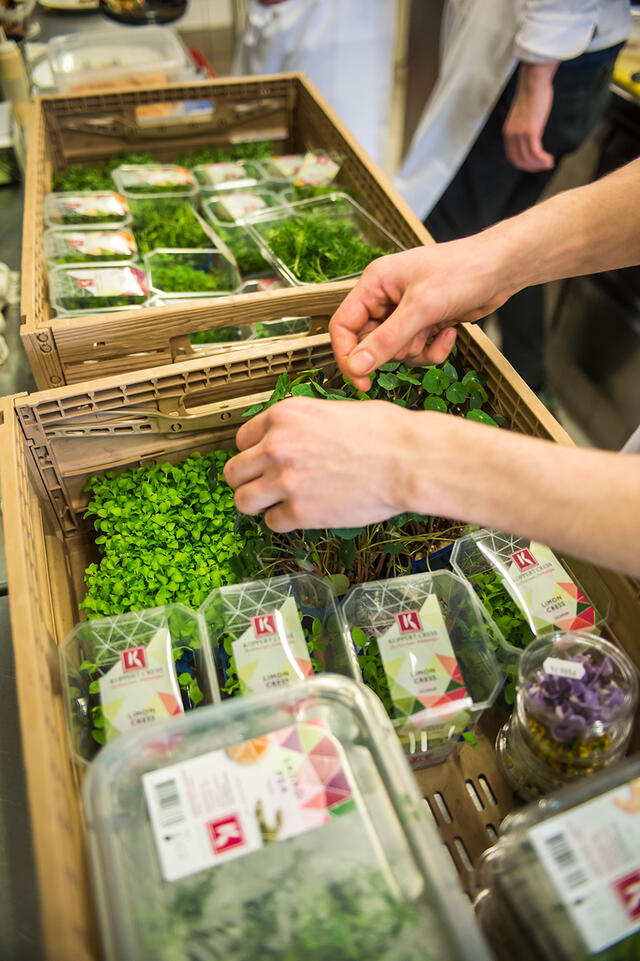 Contact Information
Restaurant Gut Lärchenhof

Hahnenstraße 1, Pulheim, Duitsland
T 0049/2238 9231016
www.restaurant-gutlaerchenhof.de
Source: Culinaire Saisonnier 93 - Summer 2019 (Dutch edition)