Ingredients
(For 4 portions)
1 bundle of large radishes with greens
1 large red onion
40 g young spinach
cup of Garden Cress - Koppert Cress
strong dash of Iluigi olive oil
120 g 'Old flandrien' (crumbled cheese)
150 gr bio Légumaise Périgord, mushroom with truffle
white truffle sea salt - Tartivo Truffles
1 small wholemeal bread (not pre-cut)
Method
Grilled onion:
Peel the onion, cut it and grill it briefly.
Croque:
Cut 8 toasts of max 1.5cm thick with a bread knife.
Spread some légumaise on 4 toasts.
Cut the leaves off the radishes and wash the radishes and leaves.
Cut the radishes into slices.
Spread the radish slices on the 4 toasts with sauce.
Place some radish green on top, then we divide the smoked onion and some spinach leaves over it.
Finally, crumble some cheese over each croque and close with the second slice of bread. Give it a good push.
Grill these on the (Berghoff) BBQ until they are nicely colored and warm on both sides.
To finish off:
Place a croque cut into 2 per plate, finish with some truffle Légumaise, some extra chunks of cheese, some white truffle sea salt, a few drops of olive oil and the cress.
Recipe: Frank Fol - The Vegetables Chef®
Photo: Wim Demessemaekers, Photographer | @wim_dmskrs
Preparation time: 20 minutes 
Techniques: veggies
Plate: Wild Grey Flat Plate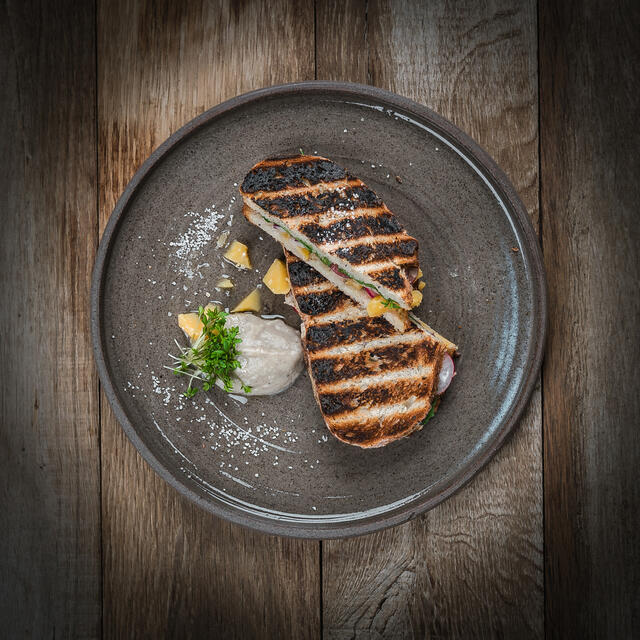 Related recipes
Gastronomical masterpieces
Related products
Say yes to the cress