Ingredients
(For 4 portions)
1 swiss chard with leaf (chard)
1 onion
400 gr soft boiling potato
2 ripe nectarines
Chermoula powder - Verstegen
cup of Vene Cress
olive oil Iluigi
black pepper mill - Verstegen
coarse sea salt mill - Verstegen
Method
Cushions:
Separate chard leaves from stems and wash both.
Dip 12 leaves in boiling salted water for 1 minute and then place in ice water.
Cut 12 equal pieces from the stems (about 10 cm each) and season them with olive oil, sea salt and chermoula powder. Mix well and let it marinate for a while.
Finely chop the remaining pieces of leaf and stem and stew in some olive oil with sea salt and black pepper.
Peel, cut and wash the potatoes. Bring to the boil with some sea salt until done. Drain almost all the moisture. Then crush the potatoes with some cooking liquid using a pestle or fork. Wash and de-seed the nectarine, then cut into pieces and mix with the mach potatoes. Stir in the braised Swiss chard, a good dash of olive oil and some black pepper. Mix well.
Now fill each leaf with a solid scoop of chard-peach stew and fold closed. (If they are too big, crop a little first)
We do this 12 times, 3 per person. Then rub each cushion with olive oil. The stems can now be placed on the hot BBQ. Nice grilling on both sides. They can be light colored and retain some structure.
To finish off:
Place the cushions on the BBQ to heat up (or in an oven) and place 3 on each plate. Place a piece of warm stem on each cushion. Finish plates with some extra chermoula powder and some Vene Cress.
Recipe: Frank Fol - The Vegetables Chef®
Photo: Wim Demessemaekers, Photographer | @wim_dmskrs
Preparation time: 45 minutes 
Techniques: veggies, fruits
Plate: Wild White Plate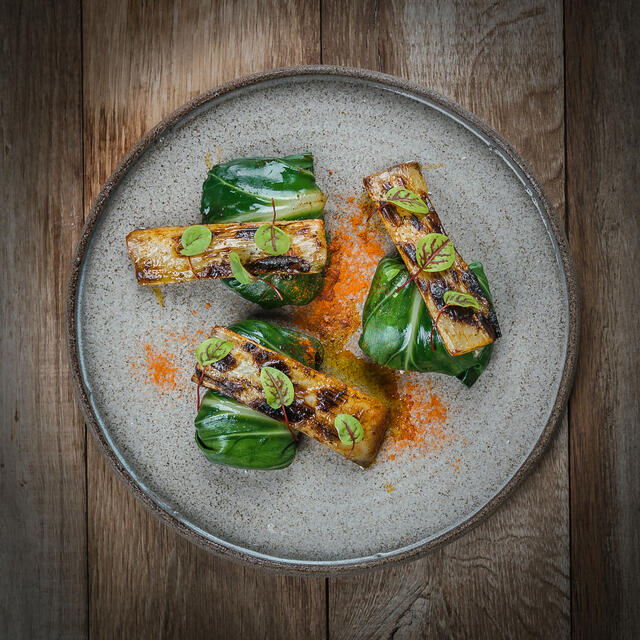 Related recipes
Gastronomical masterpieces
Related products
Say yes to the cress