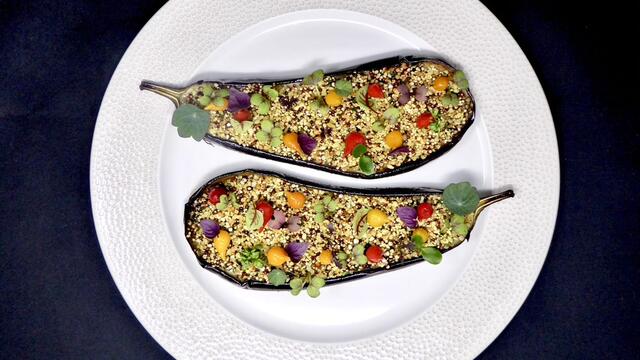 Baked aubergine and puffed quinoa
Ingredients
(For 4 portions)
½ punnet Zorri Cress
½ punnet Shiso Purple
½ punnet Garden Cress
½ punnet Vene Cress 
½ punnet Mustard Cress
½ punnet Kyona Mustard Cress
½ punnet Tahoon Cress
2 medium aubergines
50gr mix of quinoa and bulgur wheat 
40gr mini red peppers in brine 
40gr mini yellow peppers in brine 
2 tbsp olive oil
4 small pinches white ground pepper
Rapeseed oil for frying
Method
Slice the aubergines lengthways, place each half face up in a baking tray and drizzle them with olive oil. Also season them with the ground white pepper.
Place a non-sticking baking paper on top of the aubergines and bake them in a baking tray, with another baking tray on top, at 220°C for 15-20 minutes.
Meanwhile, slowly heat the rapeseed oil (not too hot) and fry the quinoa and bulgur mixture. Fill a sieve, then immerse it in the oil to do this. That is a good way to do it.
Once cooked, spread the puffed quinoa and bulgur mixture evenly over each aubergine, then add the freshly cut cress and the mini peppers.
Serve.
Recipe: Franck Pontais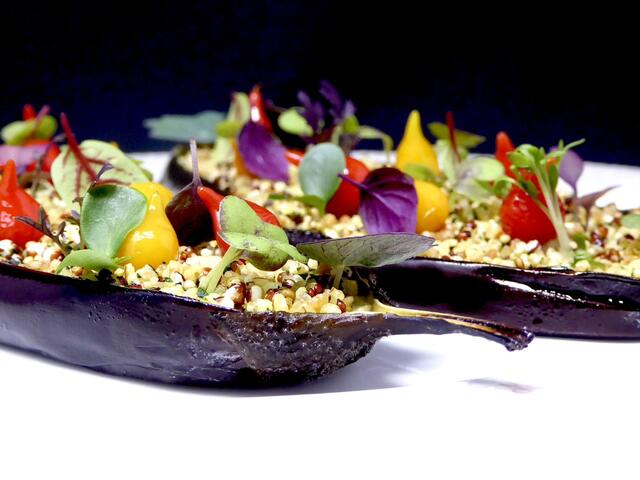 Related recipes
Gastronomical masterpieces
Related products
Say yes to the cress