Ingredients
(For 8 bonbons)
100gr diced Medjool dates
1 whole Medjool date
20gr mixed orange and lemon peel candied
2 stems Zallotti Blossom
8 Anise Blossoms
25gr ground almond
1/3 tsp almond essence
1 tsp dark rum
20gr desiccated coconuts
Method
Using a mixing bowl, mix together the diced dates, mixed peel, ground almond, almond essence, dark rum and the flowers of one stem of Zallotti Blossom. 
Divide the mix into each portion and form each portion into ball using the palm of your hands. 
Roll each bonbon into the desiccated coconuts. 
Make some fine slices out of the whole date and top each bonbon with one. 
Finish the presentation with the flowers of the other stem of Zallotti Blossom and the Anise Blossoms. 
Enjoy. 
Recipe: Franck Pontais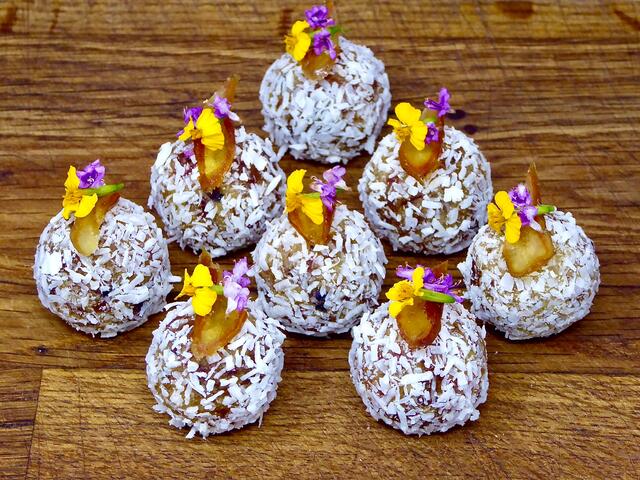 Related recipes
Gastronomical masterpieces
Related products
Say yes to the cress