Ingredients
(For 12 canapes)
2 stems Zallotti Blossom
¼ of a punnet Borage Cress
120gr puff pastry
250gr cooked beetroot
30gr unsalted butter
20gr Demerara sugar
balsamic vinegar reduction to drizzle
Method
Use mini muffin baking trays with 12 mould per tray. 
Divide the butter in 12 pieces and place one piece at the bottom of each case. 
Add one pinch of Demerara sugar on top of the butter. 
Using a Parisienne scoop, make 12 ball of cooked beetroot and press each one at the centre of each case, on top of the butter and sugar. 
Lay the puff pastry and cut out 12 circle the size of the bottom of each case and cover the beetroot. 
Bake in a hot oven at 220°C for 10 to 12 minutes. 
While still hot, remove the tart tatin from the mould. 
Serve with a drizzle of balsamic reduction vinegar, Zallotti Blossom and Borage Cress. 
Recipe: Franck Pontais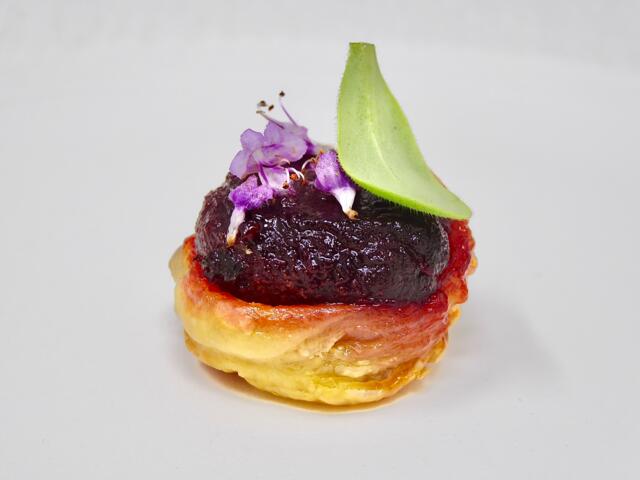 Related recipes
Gastronomical masterpieces
Related products
Say yes to the cress