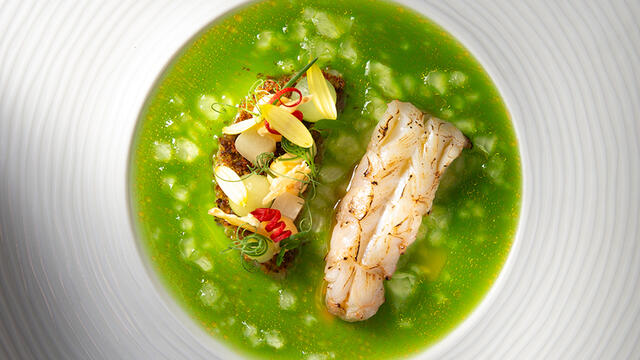 Langoustine and Affilla Cress
Torben Schuster: "I prefer to cook what I like and especially with the cold dishes I sometimes want to bring some theatre on the plate, although always functional."
Ingredients
Affilla Cress®
langoustines
sugar
salt
julienne of sweet pepper
For the Norway lobster tartare:
beautiful large langoustines
sugar
salt
wood chips (NL: rookmot)
For the parsley and chorizo crumble:
500 g chorizo
1 bunch curly parsley
panko
sunflower oil
For the chorizo cream:
100 g of protein
100 g yoghurt
chorizo oil
lemon juice
salt
cayenne pepper
For the apple in beurre noisette:
3 apples granny smith
1 dl lemon juice
2 g ascorbic acid (vitamin C)
1 dl beurre noisette
For the cucumber balls:
1 cucumber
sweet-sour moisture
For the parmesan chips:
100 g of parmesan cheese
30 g of hazelnut
For the pepper stock:
10 green peppers
white balsamic vinegar
salt
cayenne pepper
xantana
For the tomato jelly:
500 g cerise tomatoes
white balsamic vinegar
salt
cayenne pepper
garlic
5 leaves of gelatin
Method
Take some langoustines, brine them with salt and sugar for 12 hours, then smoke them when cold and crush between 2 sheets of plastic. Freeze and cut out in a tight round shape. 
For the crumble, put the chorizo ​​through the sausage grinder and fry in a dark brown oil. Drain on a cloth and reserve the oil.
Pick the parsley and blender fine, add the panko until a dry crumb forms and fry until golden brown. Allow to cool and mix with the chorizo ​​crumbs.
Mix all ingredients for the cream and emulsify with the immersion blender. Remove the core from the apple and cut in half. Vacuum for 6 hours with the lemon juice and vitamin C.
Drain the juice, vacuum with the beurre noisette and cook in a water bath at 58°C. Cut out the cucumber with a small pearl drill and cut thin strands from some.
Vacuum with the sweet and sour liquid. Grate the parmesan cheese, spread thinly over a silpat. Chop the hazelnuts and sprinkle on the cheese and bake crispy in the oven at 155°C.
Remove the core from the bell pepper and squeeze in the juicer. Season the juice with white balsamic, salt and cayenne and lightly bind with xantana.
Blend the tomato, drain in a cloth, season the moisture with white balsamic vinegar, salt, cayenne and garlic and dissolve the soaked gelatin in it.
Bring some langoustines to salt and sugar for 12 hours and grill them briefly. Pass the Norway lobster tartar through the crumble and thaw on the plate.
Add the other components and garnish with the tops of the Affilla Cress®.
***
Restaurant Gut Lärchenhof

Hahnenstraße 1, Pulheim, Duitsland
T 0049/2238 9231016
www.restaurant-gutlaerchenhof.de
Recipe: Torben Schuster
Source: Culinaire Saisonnier 93 - Summer 2019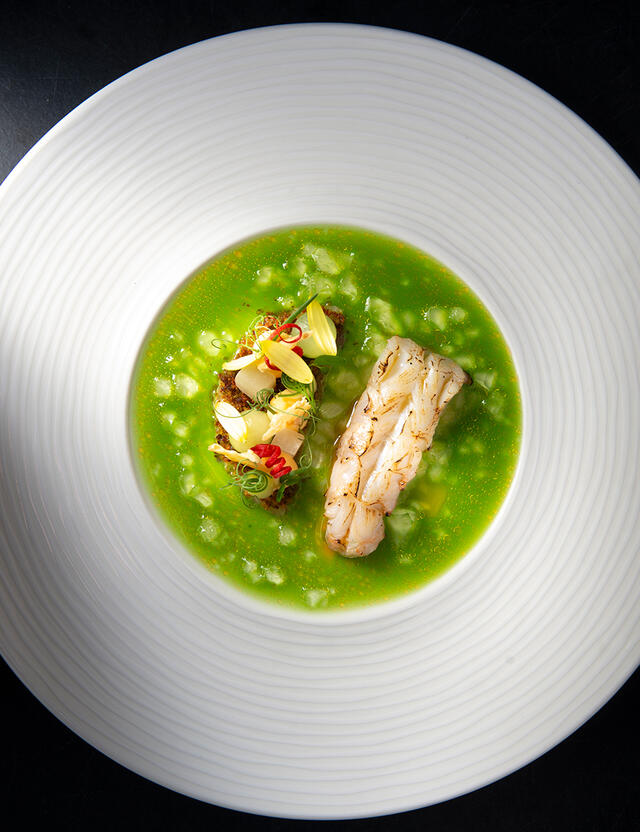 Related recipes
Gastronomical masterpieces
Related products
Say yes to the cress