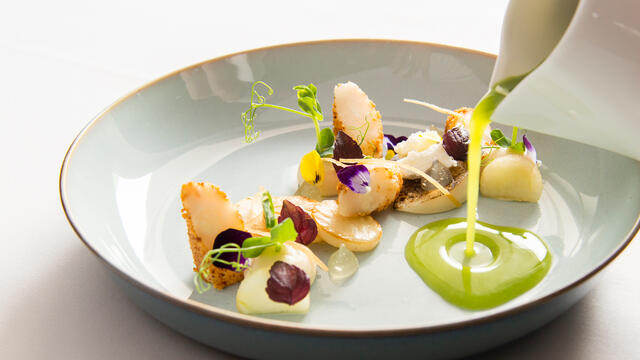 Celeriac, brown butter, lemon
Whether it is a classic Badisch farm meal in the stube, the food for half-board guests or the star meal in the Wilder Ritter, André Tienelt's handwriting is can clearly be tasted everywhere.
Ingredients
Cornabria Blossom®
Sakura Cress®
homemade cottage cheese
Shiso Purple
Affilla Cress®
candied lemon zest
lemon gel
browned whey powder
bleaching juice
cut out apple slices
For the celeriac and cider puree:
1 kg cubed celeriac
2 apples granny smith
100 g shallot
2 dl apple juice
1 dl apple cider vinegar
1 dried chili
500 g of butter
For the spice lemon fond:
10 organic lemons
200 g of sugar
45 cl lemon juice
2 dl white port
2 dl white wine
2 tbsp orange blossom
1 tbsp coriander grains
1 tbsp fennel seeds
1/2 tbsp cumin
2 pcs star anise
2 st allspice
5 pcs cardamom
4 bay leaves
5 pcs red pepper
15 g of sea salt
5 sprigs of thyme
poultry fund
For the barrels and slices of celeriac:
1 celeriac
olive oil
salt
thyme
Elderflower Syrup
For the salt crust celeriac:
300 g of salt
50 g of protein
celeriac
Method
Sweat the chopped shallot in butter, add the apple, deglaze with the apple cider vinegar, add the chilli and apple juice and cook until soft.
Steam the celery and blend smoothly with the apple composition. Add the cold butter and make it taste fresh. 
For the fond, make a blonde caramel of sugar and lemon juice, deglaze with the port and white wine and reduce.
Prick the lemons, add with the aromatics and poultry stock and leave to cover for 20 minutes. Put the lemons in preserving jars.
Pass the stock, boil again, pour on the lemons and close the jars. Wash the celeriac and cook with thyme, salt and olive oil in the oven at 160˚C and cut out barrels and slices.
Marinate the slices with the elderflower syrup and fry until golden brown. Roll the barrels in the whey powder.
Make a salt crust, cook the celeriac in the crust, break into pieces and clean. Slightly burn the celery pieces. 
Place all the celery compositions on the plate, pour in the bound celery juice and a few pieces of pickled lemon meat. Garnish with the cresses.
***
Hotel Ritter
Tal 1, Durbach An der Badischen Weinstrasse
​T. 0049 781 9323293
www.Ritter-durbach.de
Recipe: André Tienelt
Source: Culinaire Saisonnier 87 - Winter 2017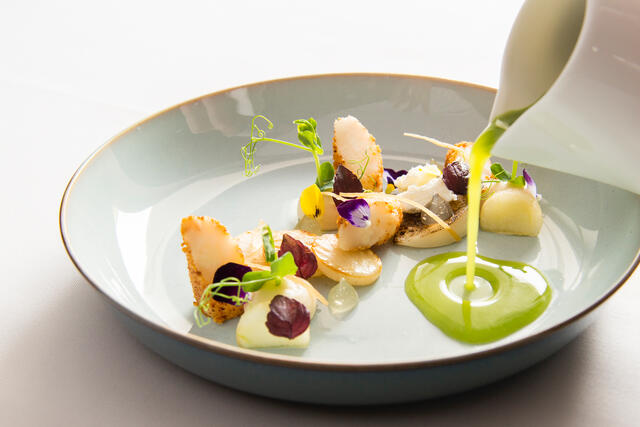 Related recipes
Gastronomical masterpieces
Related products
Say yes to the cress