Ingredients
(For 4 persons)
2 shallots
16  wild asparagus
1 jar of red veined sorrel
handful of goji berries
4 slices of pumpernickel bread
4 herrings
White wine vinegar
black pepper from the mill and sea salt
Method
Shallots:
Peel and cut into fine slices.
Put them in a bowl and season with salt and pepper. Add a large splash of white wine vinegar and mix.
Let this marinate for 15 minutes.
Wild asparagus:
Bring salted water to the boil and briefly blanch the wild asparagus.
Cool under cold water. Drain.
Pumpernickel bread:
Cut into darts.
Divide the herring over the plates, finish with the wild asparagus, the sour shallot rings, the goji berries and a few leaves of blood sorrel.
Serve with the darts of pumpernickel bread.
TIP! Wild asparagus is only in season shortly. Replace them with fine green beans.
Recipe: Frank Fol - The Vegetables Chef®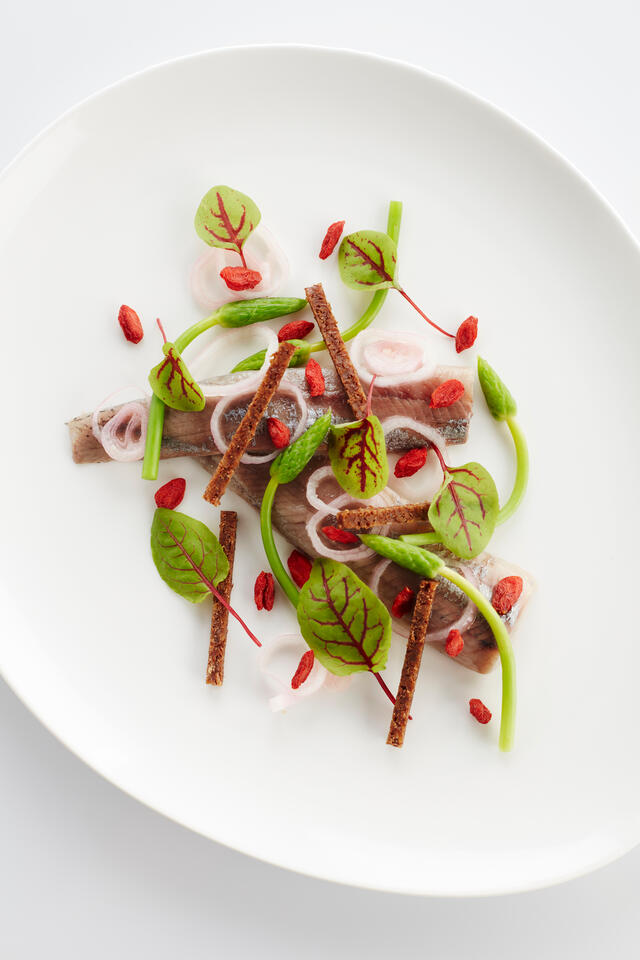 Related recipes
Gastronomical masterpieces
Related products
Say yes to the cress