Ingredients
1 banana 
30 g mango foam
750 g mango  
100 g sugar 
4 g agar agar 
250 ml orange juice 
40 g vegan vanilla ice cream 
Vene Cress 
Kaffir Lime Leaves powder 
Jasmine Blossom  
Dobla chocolate rose 
Citra Leaves  
Method
Bake 5 minutes at 200°C, slice the banana into two pieces and put in a 'banana split' form.
Soak the agar agar in cold water.
Boil diced mangoes, orange juice and sugar, puree and pass through a fine sieve.
Heat 200 ml of the puree to a temperature of 60°C / 140°F and stir in the squeezed out gelatine.
Add the remaining puree and allow to cool. Beat with a whisk before pouring into the iSi Gourmet Whip. Screw in 2 iSi cream chargers and shake vigorously.
Chill in the refrigerator for several hours.
Shake the whipper vigorously upside-down before dispensing. For preparation in the 0.5 l Gourmet Whip take half the ingredients and use 1 charger. Add the ice cream and transform the rest into a perfect banana split.
Recipe: Marcel Thiele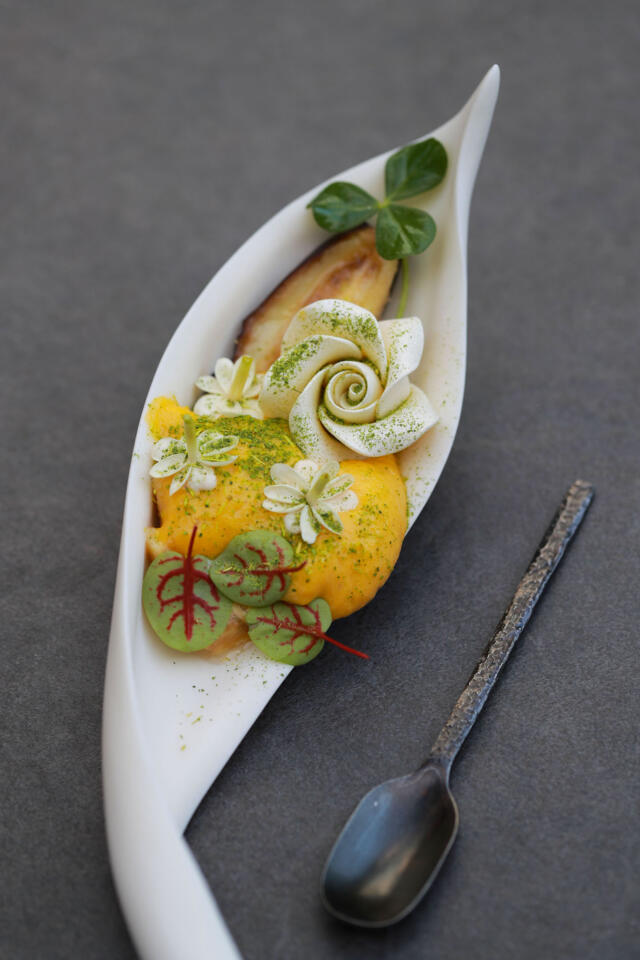 Related recipes
Gastronomical masterpieces
Related products
Say yes to the cress