Ingredients
Poached rhubarb:
250g fresh rhubarb
100ml water
60g caster sugar
1 rhubarb tea per person
Tuille mix:
50g T45 flour
25 icing sugar
25g honey  
50g pasteurised egg whites 
50g unsalted butter, melted 
3g Sechuan Buttons
Baba dough (for 10 - 20 baba):
50gr T45 flour
45g milk
8g yeast
Dough:
100g T45 flour 
8g honey 
3g salt 
104g whole eggs 
70g soft butter 
5g Sechuan Buttons 
Soaking syrup:
250g water 
75g  sugar 
1ea vanilla pods 
50g  rhubarb juice 
10g fresh ginger, grated 
½ lemon, zest 
2g Sechuan Buttons 
Rhubarb Sechuan cocktail (500ml):
Method: shaken
Glass: tea/coffee cup
Flavour: sweet and sour
12.5ml rhubarb syrup
Sechuan Button foam
25ml fresh lemon juice
3 drops cholocate bitter
Garnish: grated Sechuan Button
 
Rhubarb syrup (2:1) for 450ml:

150ml fresh rhubarb juice or chopped
300g caster sugar
 

Sechuan Button foam (500ml whipper/siphon):

250ml Sechuan syrup
200g eggs
 

Koko Kanu coconut rum infused coffee

50ml coffee beans 
500ml Koko Kanu coconut rum
Custard ice cream:
500ml milk
75g trimoline
88g caster sugar
15g milk powder
13g vanilla pods
30g procrema
100g UHT
75g VDB olive oil
40g custard powder
Method
Poached rhubarb:
Trim and chop the rhubarb into 15cm batons. Bring the water, sugar and tea to the boil and leave to cool, place the rhubarb in a bag and cover with the syrup, seal. 
Steam @ 60°C/ 3 fan for 15 minutes, leave to cool in an ice bath. Allow to steep in the syrup for 24 hours before using. 
Tuille mix:
Whisk the flour, sugar, honey and egg white together until well combined. Whisk in the melted butter. 
Rest in the fridge for at least 1 hour. Spread mixture into lace silicon mould then spread the Sechuan button over the tuille mix  and bake at 160°C for 5-8 mins until golden. Peel off and allow to cool and crisp up. Store in an air tight container with silica gel.
Baba dough (for 10 - 20 baba):
Mix all ingredients together, leave to prove for 30 minutes. 
Dough:
After mixing the whole eggs, separate the eggs into thirds. Mix all the dry ingredients and the poolish with two thirds of the eggs until nice and elastic. 
Add the remaining eggs followed by the soft butter and Sechuan Buttons.  
When smooth pipe 35g per baba mould. Leave to prove until it reaches the top of the mould. Preheat oven to 200°C, place the babas in the oven and after 2 mins turn temperature down to 170°C/ 1 fan/ 50% for around 18 minutes. 
Allow to cool slightly and remove from moulds. Store in the freezer. 
Soaking syrup:
Bring all ingredients to the boil, chill down and allow to steep overnight in the fridge.
Soak baba when syrup is warmed to 50°C. 
Soak babas for 1 min from frozen. Allow to drain on a rack. 
Rhubarb Sechuan cocktail (500ml):
Rhubarb syrup:

Blend the ingredients in a blender on a medium speed until combined. Bottle the syrup. 
 

Sechuan Button foam:

Combine the water and the sugar in a saucepan over medium heat until sugar has completely dissolved. Remove from heat; add Sechuan Buttons and leave to infuse for 1 or 2 hours. Strain and bottle the syrup. Place all the ingredients into the whipper/siphon, close it and shake it. Put 2 charges and leave to rest inside the fridge. 
 

Koko Kanu coconut rum infused coffee:

Place the coffee beans in a jar with a lid and leave to infuse, covered for 30 minutes. Taste it, if you like the flavour, strain the mixture with a strainer and decant the liquid into a bottle.    
Custard ice cream:
Bring everything apart from the olive oil and procrema to the boil.  
Simmer for ten minutes and pour into a gastro tray to cool.  
Pass out the vanilla and blitz in the oil and procrema using a Vitamix, pass through a chinois and store in the fridge. 
Churn, dust with custard powder and freeze.
Recipe: Kurtus Auty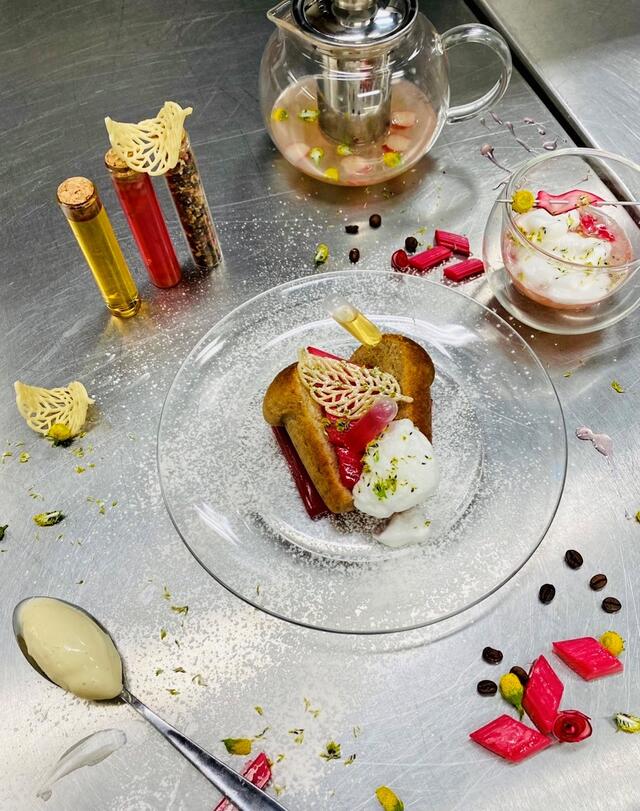 Related recipes
Gastronomical masterpieces
Related products
Say yes to the cress