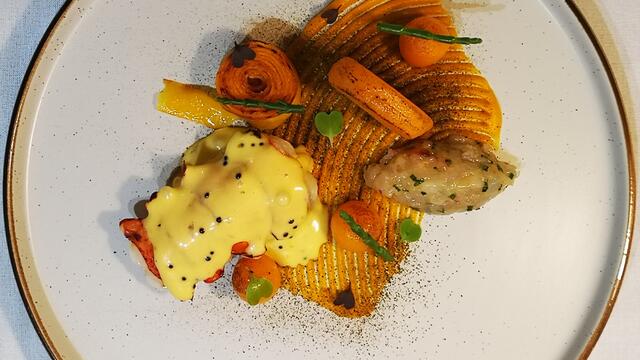 Lobster, butternut squash and Sechuan Button textures, samphire and Hollandaise sauce
Ingredients
Sous-vide lobster: 
4 lobster tails 
20g of olive oil 
Lobster tartar: 
lobster trims 
lemon zest 
5g of lemon juice 
2g of chives 
5g of olive oil 
1 Sechuan Button 
maldon salt 
Butternut squash purée: 
700g of butternut squash 
80g of onion 
30g of olive oil 
3 sprigs of thyme 
2g of smoked paprika 
maldon salt 
pepper 
Samphire and Sechuan Buttons powder: 
40g of samphire 
5 Sechuan Buttons 
2g of maldon salt 
Squash textures: 
7 round slices of butternut squash (1cm) 
50ml of vegetable stock 
20g of butter 
30g of butter 
maldon salt  
1 sprig of thyme 
Sechuan Button caviar: 
250g of oil 
200g of water 
4 Sechuan Buttons 
1 lemon zest 
1g of Agar-agar 
Hollandaise sauce: 
3 egg yolks 
15g of water 
200g of clarified butter 
20ml of lemon juice 
maldon salt 
white pepper 
20g Sechuan Button caviar 
10g lumpfish roe 
Method
Sous-vide lobster: 
Trim the ends of the lobster tails and save for the tartar. 
Vacuum pack the lobster tails with olive oil and sous-vide at 60ºC/6min.  
Use a blow torch, gently grill the lobster. 
Lobster tartar: 
Finely chop the lobster and the chives.
Mix the lobster with chives, lemon zest, olive oil and lemon juice. Using a microplane grate the Sechuan Buttons to the tartar.
Season with salt.
Envolve all the ingredients.
Butternut Squash Purée: 
Dice the onion and squash put them in a tray drizzle with olive oil. Mix the thyme and smoked paprika and roast at 165ºC for 30min. 
When roasted, remove the thyme sprigs and using a blender purée the roasted squash and onion until smooth. Sieve the purée. 
Season with salt. 
Samphire and Szechuan Buttons Powder: 
Roast the Samphire at 170ºC/45ºmin. It should be brown, dry and have a smoke flavor. 
Blend with the remaining ingredients to create a powder. 
Squash Textures: 
Pick 4 slices and using 2 different sized round cutters, cut 4 "doughnuts" of squash. 
Pick 2 slices and with a Parisienne scoop cut 12 balls of squash. 
Vacuum pack the doughnuts and the balls of squash with some bit of maldon salt and 15g of butter. Sous-vide them at 65ºC/45min.  Blow torch the squash and finish them in vegetable stock and butter to create a glace around them. 
Pick 1 slice and using a peeler carefully peel 4 stripes with 1 meter length. Roll them. 
Gently cook the rolls in browns butter and thyme until golden. Season with maldon salt. 
Seechuan Button Caviar: 
Place the into a container and freeze it for 1H. 
Vacuum pack the water, Sechuan Buttons and the lemon zest. Infuse at 60ºC for 45min. Strain the Sechuan Button tea.  
To a 100g of tea had the agar-agar. Boil of 2 min whisking constantly. Mix the remaining 100g of tea an put into a squeeze bottle.  
Gently drop the tea into the cold oil to form a caviar. 
Hollandaise Sauce: 
In a bowl whisk the egg yolk and the water. Place the bowl in a small pot with water and cook the egg yolks (aprox. 55ºC) at low heat whisking constantly. A smooth egg yolk cream should be obtained. Little by little incorporate the warm butter like making a mayonnaise.  
Add the lemon juice a season with salt and pepper. Before serving add the lumpfish roe and the Sechuan Button caviar. 
Recipe: Pedro Larcher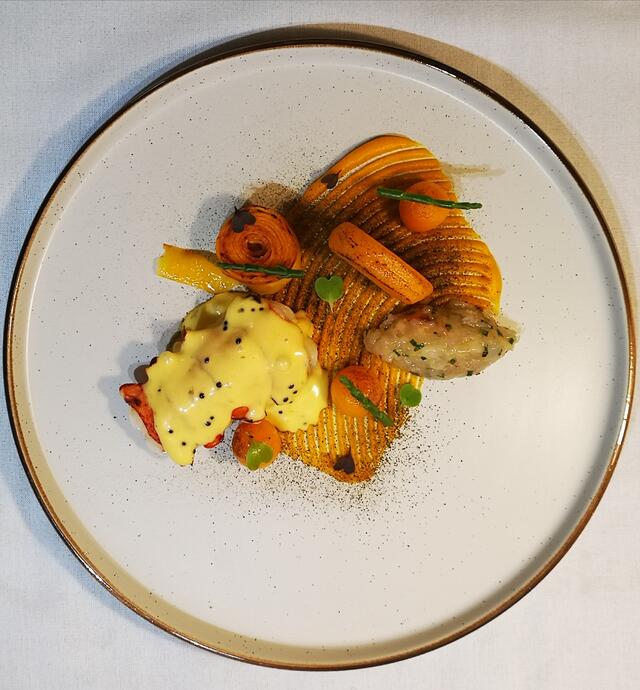 Related recipes
Gastronomical masterpieces
Related products
Say yes to the cress