Ingredients
Cauliflower
150 g tablespoon of greek yogurt
150 gram tablespoon of cottage cheese
1 tablespoon vadouvan
1 tablespoon of marsala
1 tablespoon cumin
2 tablespoons olive oil
1 Rock Chives
1 Motti Cress
1 Kyona Mustard Cress
1 Ghoa Cress
powder of Kaffir Lime Leaves
salt
ground pepper
Method
Mix the yogurt, cottage cheese, vadouvan, marsala, cumin, sliced Rock Chives, 2 tablespoons olive oil, salt and pepper with a whisk.
Use half of the mixture to coat the cauliflower and use the other half as a sauce later.
Bake the cauliflower for 45 minutes at 180°C on the Big Green Egg (depending on the size of the cauliflower).
Place the cauliflower on a plate, spoon the sauce over it, cut the rest of the cresses and mix like a cress salad and place it on the cauliflower.
Recipe: Leonard Elenbaas (BBQ Pitmaster Community) and Eric Miete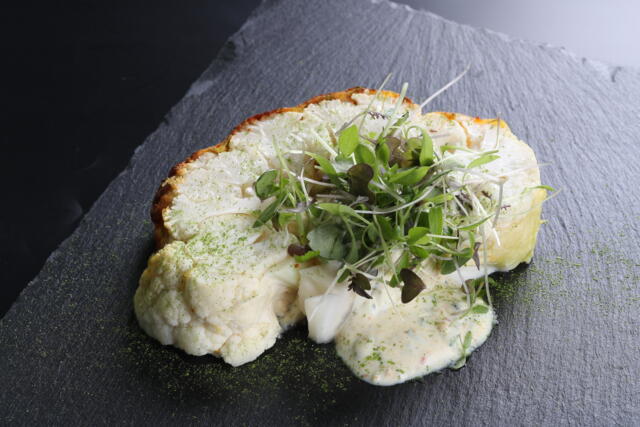 Related recipes
Gastronomical masterpieces
Related products
Say yes to the cress