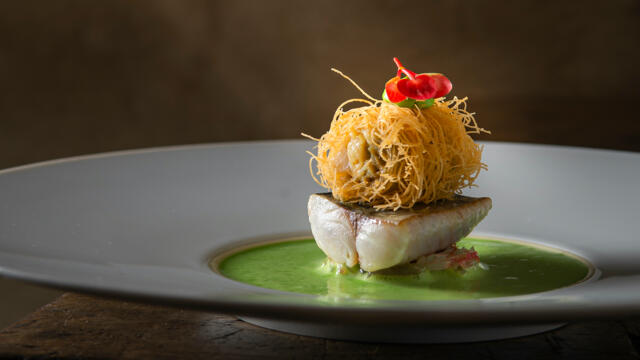 Breton mackerel - baked Gillardeau oyster, pomelo, blood orange and pistachio
Located in the beautiful, stately historic hotel Bayerische Hof dating from 1841, not far from Munich's historic old town, one can find the gastronomic gem of the city: Restaurant Atelier.
Ingredients
For the mackerel:
10 portions of mackerel à 45 g
olive oil
butter
salt
pepper
For the fried oysters:
10 Gillardeau oysters No. 2
2 dl of champagne
1 dl of oyster juice
Kataifi dough
100 g of butter
5 g madras curry
cooking oil
For the citrus salad:
100 g of skinless and cut pomelo pieces
50 g skinned and cut blood orange segments
20 g chopped pistachios
1 tbsp buddha finger lemon juice
1 tbsp pomelo oil
For the pistachio sauce:
50 g chopped pistachios
3 dl poultry stock
15 ml pistachio oil
salt
Method
Fry the pieces of mackerel on the skin side glassy in a pan.
Melt the butter and stir in the curry.
Sprinkle the kataifi dough with the butter mix.
Briefly poach the oysters in the champagne oyster juice mixture and keep briefly under cold water.
Pat them dry and wrap the kataifi dough around them. Fry this crispy in cooking oil, sprinkle lightly with some salt and drain.
Mix all ingredients into a nice salad.
Put all the ingredients for the pistachio sauce in a pan, bring to a boil, mix until homogeneous and season with some salt.
Arrange the fruit salad in the centre of the plate and place the mackerel and kataifi with oyster on top.
Decorate with the Apple Blossom. Finally, pour the pistachio stock around the fish.
Recipe: Jan Hartwig, Restaurant Atelier
Source: Culinaire Saisonnier 96 - Spring 2020
Related recipes
Gastronomical masterpieces
Related products
Say yes to the cress