Ingredients
For 4 portions
2 punnets Rock Chives
2 punnets Sakura Cress
8 medium slices of bread
8 slices of ham
4 medium eggs
1 tbsp olive oil
50gr butter
1 tbsp flour
300ml hot milk
150gr grated Gruyère cheese
½ tsp ground nutmeg
table salt
white ground pepper
crack black pepper
Method
Bring the milk slowly to a simmer in a pan. 
Meanwhile, make a roux with the flour and butter. 
Add the hot milk on top and stir constantly to make the sauce then add 100gr of grated Gruyère cheese, salt, pepper and ground nutmeg. 
Lay the 8 slices of bread on the table and spread a generous amount of sauce on each. 
Lay 2 slices of ham on top of the 4 slices and close the sandwich with the other slices of bread. 
Equally divide the remaining sauce on top of each sandwich and spread to cover. 
Add the remaining grated Gruyère on top of each one. 
Place the "croque" to cook in an oven at 220°C for 15 to 20 minutes.
Once the "croques" are cooked, fry the eggs with the olive oil and place one on top of each sandwich. 
Serve with Rock Chives, Sakura Cress, and a pinch of crack black pepper. 
Recipe: Franck Pontais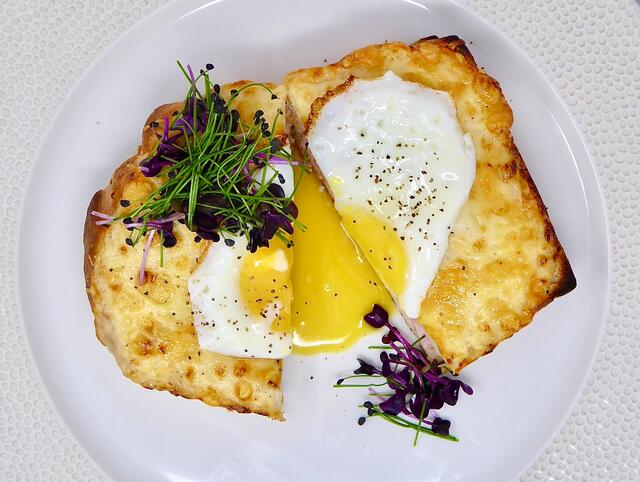 Related recipes
Gastronomical masterpieces
Related products
Say yes to the cress