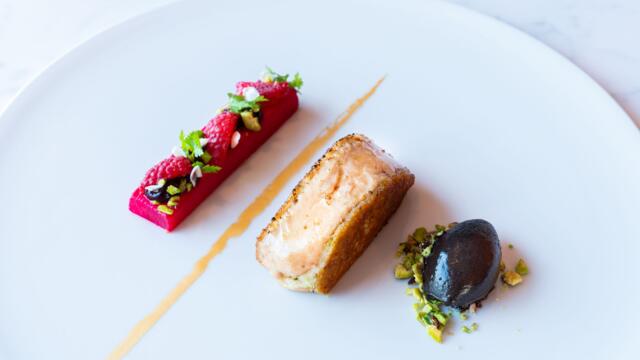 Duck liver, hibiscus, rhubarb, Jasmine Blossom
We are with Baptiste Heugens from restaurant Two6Two in Strassen, in the Grand Duchy of Luxembourg.
Ingredients
(For 4 persons)
4 escalopes duck liver
2 pieces of rhubarb
16 small raspberries
15 g of black garlic
200 g blackberry puree
1 dl apple juice
50 g green pistachios
1 cup of Jasmine Blossom
gel of black look
chervil
For the hibiscus syrup:
20 g of dried hibiscus
25 g of sugar
2 dl water
20 g raspberry puree
Method
Peel the rhubarb and cut it into pieces of 10 cm long. Make a syrup with the different ingredients and let the rhubarb pieces preserve for 8 minutes. They should remain slightly crispy.
Boil the blackberry puree with the apple juice and black garlic, mix well and turn into sorbet ice cream. Roast the pistachios in the oven at 160°C for 4 minutes and crush them after cooling.
Bake the foie gras without fat and extend the cooking time in the oven at 200°C for 1 to 2 minutes. Dress the elements harmoniously on the plate and then add the foie gras and a quenelle of sorbet.
Garnish with Jasmine Blossom, chervil, raspberries and black garlic gel.
***
Two6two
Route d'Arlon 262, Strassen
Tel. 00352 621 213 208
www.two6two.lu
Recipe: Baptiste Heugens
Source: Culinary Saisonnier 95 - Winter 2019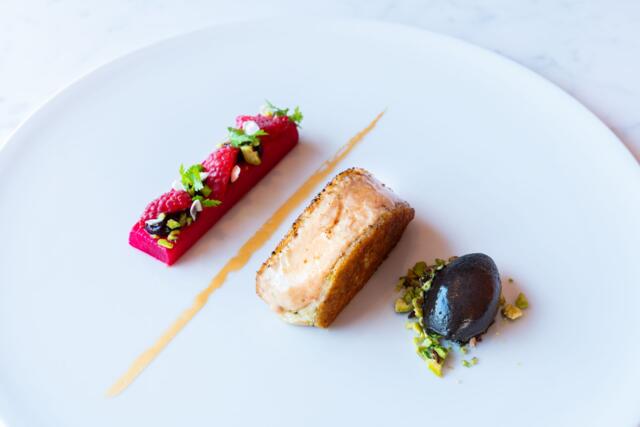 Related recipes
Gastronomical masterpieces
Related products
Say yes to the cress