Ingredients
(For 5 portions)
Jasmine Blossom 
Aikiba Leaves
Foie gras au torchon: 
250g foie gras
5g salt
3g sugar
8g cognac/brandy
8g madeira 
Fig compote: 
Five spice tuille: 
20g Panko bread crumbs
150g water
35g oil
1g five spice spices
2g salt
Method
Foie gras au torchon:
Take the foie gras out of the fridge. 
Willow the foie gras into smaller pieces and remove blood vessels and stems. 
Combine the foie gras in a bowl with salt, sugar, cognac and madeira. 
Mix it together well, cover the bowl and let the foie gras marinate for 30-45 minutes at room temperature. 
Lay a piece of cling film on the table. 
Spread the marinated foie gras on the cling film and tighten it up into a sausage, paying attention to getting all the air squeezed out so it becomes a dense mass. 
Tie a knot at both ends of the roll. 
Wait until the foie gras roll is completely firm and cold. 
Pocher the foie gras roll in a water bath at 80℃ for 10 minutes. 
Take the roll and refrigerate it until it is completely cold and firm. 
Fig compote:
Cut the figs into quarters. 
Put the sugar in a saucepan. 
Put the pan on the burner and melt the sugar into a golden brown caramel. 
Put the figs in the pan with caramel and turn them well, add a little liquid if necessary. This can be water, white wine, cognac, port wine, etc. 
Put the figs in a bucket and refrigerate. 
Chop the cooled figs into a dense compote. 
Five spice tuille:
Put panko, water, oil, five spice and salt in a blender and blend it for 2-3 minutes. 
Heat up a pan.
Pour a thin layer of the dough in the pan.
The tuille is finished when it is golden on the upper side. 
The tuille should only be fried on one side. 
When serving:
Cut foie gras au torchon into slices.
Serve foie gras with fig compote and five spice tuille. 
Add Jasmine Blossoms and Aikiba Leaves to the dish. 
Recipe: Søren Kyed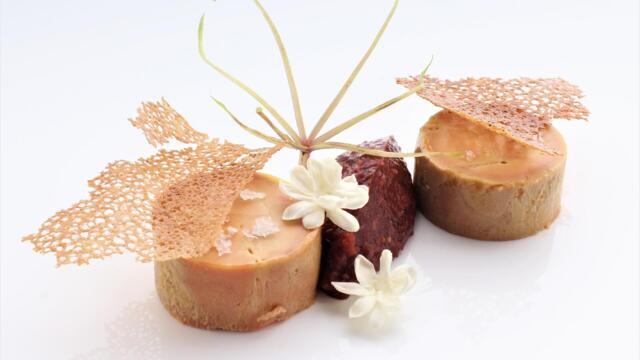 Related recipes
Gastronomical masterpieces
Related products
Say yes to the cress